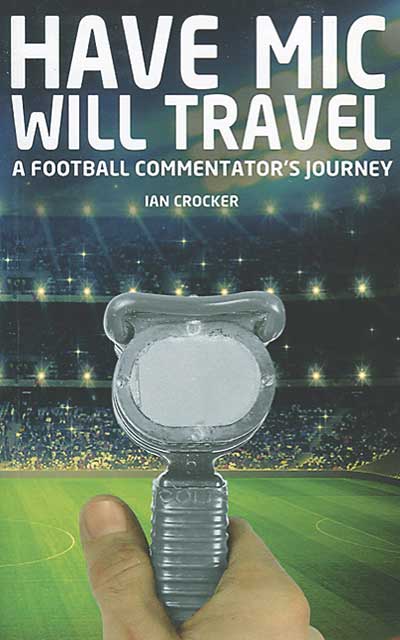 A football commentator's journey
by Ian Crocker
Pitch Publishing, £12.99
Reviewed by John Earls
From WSC 346 December 2015
Now in his second spell covering Scottish football for Sky Sports, Ian Crocker's career is a potentially fascinating story of being one of commentating's nearly men. Crocker says he was aware of his place in the hierarchy at Sky, in the rung below the channel's big four commentators, but his defection to the ill-fated Setanta to become their top dog lasted just one season.
How does Crocker feel after his chance to take priority at a channel was so brief? No idea. In a style all too typical of Have Mic Will Travel, his spell at Setanta is covered in under a paragraph. Before getting his commentary break on Capital Radio, Crocker was West Ham's PA announcer. It was his task to break the news of the Hillsborough disaster to fans. How Crocker coped goes unremarked, as this too is dispensed within one paragraph. By contrast, his love of West End musicals gets five pages.
Most of the book is taken up with mundane match reports of games Crocker covered, interspersed with extracts of his commentary from the day. Bereft of Crocker's excitable commentary style, his words look leaden on the page – downright irritating in his frequent attempts at replicating his trademark of extending a player's name when scoring, à la "Laaaarsssoonn!". Fans reading such a niche interest book will doubtless recall the details of Celtic 6-2 Rangers anyway. It's space that would have been better given over to the details of how Crocker prepares for a game, how he copes when the goals are flying in, how to inject excitement into a 0-0, what makes a good broadcasting voice…
There is precisely no information of how games are allocated to commentators or any other behind-the-scenes detail. Crocker is not a man to give any insider information on football. We learn that Walter Smith is good for a gossip, but are left to wonder what tales are shared. Just about the only passage that could pass for an anecdote involves Roy Keane demanding that Crocker say "Please" when the commentator asks Keane for an interview three times in a row without using the magic word. It's supposedly told at Keane's expense, yet the reader's sympathies won't be with the bumptious Crocker.
More than once, Crocker says he doesn't like the sound of his own voice; an intriguing confession for someone who makes his living from it. Why Crocker hates his voice and why he got into commentating in the first place with that handicap are left unremarked.
Crocker's enthusiasm for football is evident. But his book is utterly lacking in analysis at the expense of worrying revelations such as the fact Crocker has kept every job rejection letter he's received. At which point he goes straight past Alan Partridge into the realms of The King Of Comedy's Artie Fufkin. Once Crocker starts railing against political correctness and "the health and safety brigade", Have Mic Will Travel manages the unlikely feat of making one feel more kindly disposed towards Jonathan Pearce.