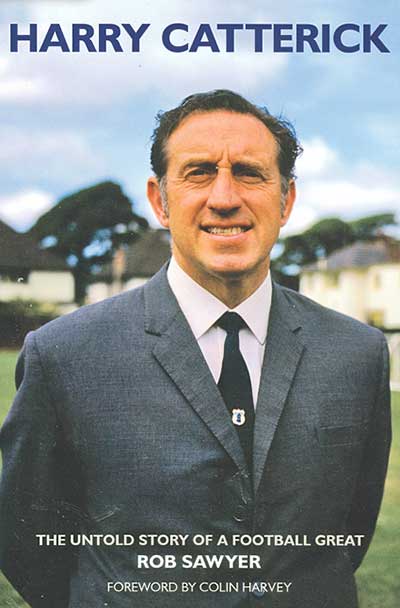 The untold story 
of a football great
by Rob Sawyer
De Coubertin Books, £18.99
Reviewed by Simon Hart
From WSC 340 June 2015
It was 30 years ago in March that Harry Catterick died after suffering a heart attack at Everton's FA Cup quarter-final against Ipswich Town. Five years earlier, Dixie Dean had also died at Goodison Park yet unlike the nationally famous striker, Catterick's achievements – building two League title-winning teams – are today largely ignored beyond Merseyside.
Rob Sawyer has sought to redress the balance in a well-crafted biography that begins with a foreword from Colin Harvey, part of Catterick's 1970 Championship side. "Don Revie, Bill Shankly, Bill Nicholson and Sir Matt Busby all get mentioned as being the great managers of the era while Harry doesn't," says Harvey of a man who won as many Leagues and FA Cups as Revie.
It is with Shankly, though, that Harvey makes the most telling comparison. For half of his 12-year reign, Catterick's Everton drew the bigger crowds on Merseyside yet as Harvey recalls: "The press enjoyed being courted by Bill Shankly, but Harry was an introvert and snubbed them." This is the crux of his image problem. Here was somebody who refused to allow the BBC cameras in to film Match of the Day until 1967 and had none of the charisma of his rival. Catterick was an aloof figure more akin to a modern-day director of football who – as his players would joke – put on a tracksuit only when the TV cameras or chairman John Moores appeared.
To achieve this insightful portrait, Sawyer pieced together interviews given by Catterick himself along with reminiscences of players and journalists and contemporary press cuttings. Alex Young recalls the coldness of a man not interested in courting popularity, saying: "I never got a pat on my head." He had a devious side too, lying to the press and his own players; he told midfielder Brian Harris, for instance, that rumours of Tony Kay joining were false, only to swoop later that day for a player who had helped his Sheffield Wednesday side finish Division One runners-up in 1960-61.
Yet while his 1963 title-winners, built with the largesse of Littlewoods tycoon Moores, were dubbed "cheque-book champions", the vision behind his youthful 1970 team would fit most current ideas of how to play the game. It was a 4-3-3 formation with the "holy trinity" of midfielders Howard Kendall, Harvey and Alan Ball at its heart. Dave Sexton, then Chelsea manager, applauded him for succeeding with a "set of small players up front" and Catterick's own view was: "When it comes to the creation of something in tight corners, which midfield men have to do, give me the little ones."
His players might have endured an old-fashioned factory-style clocking-in system but his planning of Everton's Bellefield training ground – with an indoor pitch for small-sided matches – was another demonstration of foresight. Indeed in October 1970 Charles Buchan's Football Monthly magazine dubbed the then 50-year-old "a manager for the Seventies".
Sadly for Catterick – and his legacy – his Everton team soon fell apart. Sawyer recalls a pivotal week in March 1971 when they lost a European Cup quarter-final to Panathinaikos and FA Cup semi-final to Liverpool. After Ball left in controversial circumstances and Catterick himself suffered a heart attack, he was sacked in 1973. Not until 1985, two months after his death, would Everton win the League title again.