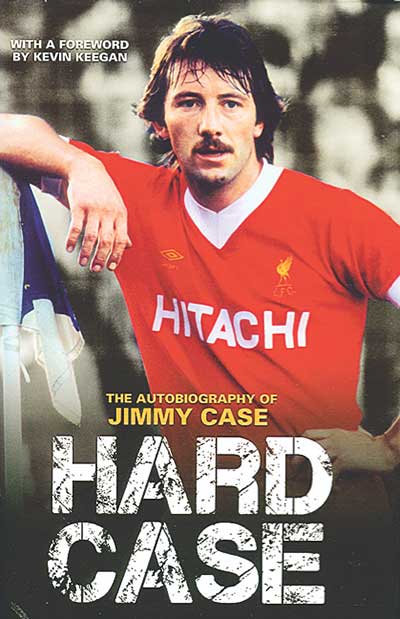 The autobiography of Jimmy Case
by Jimmy Case
John Blake, £18.99
Reviewed by Seb Patrick
From WSC 337 March 2015
If things had worked out differently, Hard Case could have been the first footballer's autobiography to be crowdfunded. Jimmy Case and his ghostwriter Andrew Smart initially sought to get the book printed via online publisher Unbound, a site on which authors solicit advance orders for titles, last year but Case's memoir didn't attract enough pledges. Undaunted, they've instead managed to find a traditional publisher to take it on – but unfortunately, this change in approach doesn't seem to have affected the content of the book, which feels badly in need of a stronger editor's hand.
What becomes immediately apparent from its disjointed, conversational style is that Hard Case is essentially a transcription of Case talking about his career and sharing anecdotes. An opening chapter centred on his Wembley experiences at both Liverpool and Brighton suggests that these thoughts have been grouped together in some kind of thematic order; but from then on it's a roughly chronological run through his playing career, which nevertheless takes in several diversions forwards or backwards whenever the mood strikes him to refer to something elsewhere.
It's clear that making itself an accessible read is one of Hard Case's foremost aims – it's a welcoming book, from its fairly large print size to its apparent desire to directly replicate the experience of hearing Case reminisce in person. But this style lends itself to repetitiveness very quickly, and by the time you've read him guess at having played "thirty-seven games" for the reserves in a particular season only ten pages or so after having already stated that same figure as precise fact, you begin to yearn for Smart to start interfering in the narrative a bit more decisively.
Case himself is difficult not to warm to, especially when telling the Daily Mail's Jeff Powell directly to his face that he hates him, or responding to a Kenny Sansom taunt about his lack of England caps with the reply "Sorry, I thought you said European Cups". In his time at Liverpool he was the archetypal example of a hard-working, tough-but-honest 1970s pro and his career is littered with distinctive quirks, from being allowed to continue his apprenticeship as an electrician after signing for Liverpool (essentially becoming a semi-pro player for two years) to being a contemporary of Tommy Smith and Ian Callaghan who was somehow still playing in the Football League as late as 1995.
Yet while there's much about Case's career that was unique to him, there are also a good number of his stories – especially on the pitch – that are on the somewhat generic or predictable side. He even manages to squeeze in perhaps one of the most forgettable Bill Shankly stories yet recounted in an autobiography. It's a shame that so many of these take up space that could have better been spent exploring his life outside football a bit more.
Instead, once the tale of his later years on the south coast is concluded, Case switches to a chapter in which he discusses the present-day Liverpool side's prospects with an optimism born out of the events of the 2013-14 season. It's an ill-advised sojourn that has the effect of severely dating Hard Case even before it's reached shelves; and it's symptomatic of a book that, for all its good intentions and occasionally lively source material, is sorely in need of knocking into better literary shape.