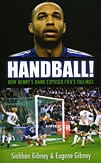 How Henry's Hand Exposed FIFA's Failings
by Eugene and Siobhan Gibney
Brandon/Mount Eagle, £10.99
Reviewed by Paul Doyle
From WSC 288 February 2011
It is tempting to declare that this book is what Metallica were growling about in their song The Thing That Should Not Be. But that would be harsh, as it does appear to have served at least one purpose – the father-and-daughter combo who authored it assert, after 144 pages of disjointed lamentation, that "for us this has been part of the process of healing and acceptance" following Ireland's failure to reach the World Cup after Thierry Henry's handball. For readers, alas, it inflicts new pain.
In the blurb on the back the publishers claim that the writers "tell a riveting, often hilarious story that will entertain, further outrage and amuse fans". Well, one out of three ain't bad. In fairness, it is not clear that the authors did actually seek to amuse – there are no discernible attempts at humour in this "hilarious" tract, instead the bulk of the text amounts to an extremely earnest declaration that Ireland were hard done by. Thus, "the best fans in the world", as the Gibneys matter-of-factly describe the Irish, were deprived of a trip to South Africa. For people seemingly so keen on upholding justice, the authors do not appear to mind fooling prospective buyers into thinking this is a work of substance by padding it out with pages of irrelevant guff, including a section of World Cup trivia, Henry's CV and a no-frills recap of other France v Ireland matches. In other words, much of the content is the sort of thing you would expect to find in a newspaper ahead of the game (and probably did), not in a book-length analysis afterwards.
Annoyingly, and symptomatic of the book's lack of insight, the writers do not even correct inaccuracies that appeared in newspapers at the time. They repeat the claim that Raymond Domenech dismissed Ireland as "England B" in the build-up to the game, whereas if they had actually read his interview, rather than mischievous translations of it, they would have discovered that by "L'Angleterre bis" Domenech had meant that Ireland were "a replica of England" and therefore not to be underestimated. You can dispute the wisdom of that assessment but it wasn't, at least, intended as an insult.
Buried amid all the bumf are a couple of cogent comments about FIFA. They are not, of course, original points, but they are sensible enough to bear repetition. Firstly, while insisting that Henry should have been banned, the authors castigate FIFA for allowing "a culture of cheating" to develop in football, according to which diving and other dishonest deeds are common because there is no effective or retrospective punishment. "We need more severe sanctions," rage the Gibneys. "Cheating should not only be condemned as unacceptable, it should be legislated as unacceptable." Secondly, the Gibneys agree that it is downright suspicious that FIFA do not allow referees to use video evidence – one cannot help but wonder whether the game's governing body has some sinister reason for refusing to improve a system that allows blatantly wrong decisions to stand. But briefly wonder is all the authors do – there is no exposing going on here despite the book's subtitle.