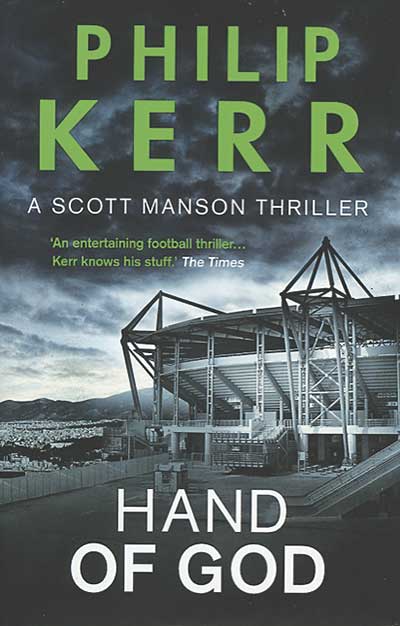 by Philip Kerr
Head of Zeus, £7.99
Reviewed by Huw Richards
From WSC 348 February 2016
Fiction with a sporting setting is notoriously variable in quality. Binary win-lose outcomes reduce the scope for ambiguity and authors may either be poor writers or under-informed. Philip Kerr sidesteps all of these traps with ease. His fictional club, London City, provides the context for crime rather than a narrative end in itself.
Kerr is so good a writer – his Bernie Gunther series is among the most compelling in modern crime fiction – that his adoption of this dowdy sub-genre feels as though Andrés Iniesta has pitched up at Barnet. And he knows his football. One early passage in this novel – whose main characters and events are fictional, but placed against a background of real people, teams and competitions – suggests strongly that he will have been less surprised than most by the current success of Leicester City and Jamie Vardy.
And the second of his Scott Manson series has immense virtues. Kerr creates a plausible cast of oligarch owners, amoral agents, harassed club officials and players ranging through alpha male to spoilt child, serial shagger and plain sociopath. They operate in a believably febrile context in which winning matches is but one agenda among the financial priorities of owners, agents and others seeking their cut.
An ingenious premise based around the death of a player during a Champions League tie, and the team being marooned in Greece until the fatality can be explained, testifies to his skill as a plotter. The Greek setting too is vivid and thoroughly researched – Kerr may have been even more pleased than other Arsenal fans by their remarkable Champions League victory at Olympiakos.
But it falls short in one crucial measure. Kerr is writing fiction and not history, but the challenge of fiction – one he has risen to elsewhere – is creating characters who compel us to suspend disbelief, to believe in and care about them. And a particular difficulty here is finding a way to explain the peculiarities of football to readers who may not be aficionados.
Attempting to do so provokes some uncharacteristically clunky dialogue. Can we really imagine a club chairman telling his manager "Don't forget we paid FC Augsburg just four million for him last summer ", or being told "It all sounds suspiciously like the kind of third-party ownership arrangement that was banned by the Premier League in 2008"?
Manson's narrative voice similarly becomes more journalese than conversation, citing for instance: "A superb header from Hertha's talented Adrián Ramos that made me understand why Borussia Dortmund were so keen to secure the Colombian's services after their own top striker, Robert Lewandowski, had left to join Bayern Munich in the early summer."
It is still a good, entertaining read. I'll be up for volume three, but still waiting to be fully engaged and convinced in the way his other books – Gridiron, A Philosophical Investigation and the recent Research as well as the incomparable Gunthers – have done.