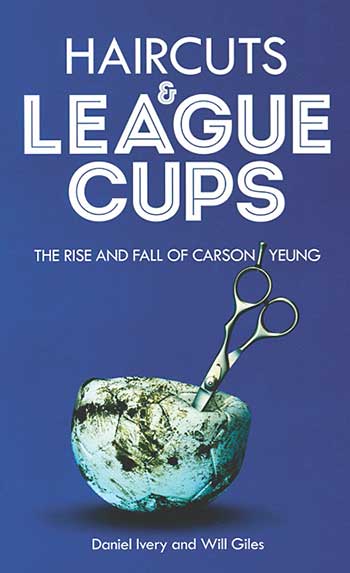 The rise and fall of Carson Yeung
by Daniel Ivery & Will Giles
GHI HK Ltd, £20
Reviewed by Chris Sanderson
From WSC 339 May 2015
English football's wholehearted embrace of the free market has meant that the sense of place and identity that clubs once provided their fans is increasingly meaningless to owners and administrators. Of course, the game here has always been dominated by a handful of wealthy clubs and provided a platform for the likes of Bob Lord, Robert Maxwell, Doug Ellis et al to use clubs as their personal playthings. But as the history of English football since 1992 has been one of untold riches and a wholehearted embrace of laissez-faire economics, so it has likewise seen a wholesale loosening of the links between the clubs and their communities. And as fans of teams as diverse as Leeds, Portsmouth and Coventry can testify, their acquisition by owners who have little regard for their club's history or supporters has rarely been positive.
Haircuts & League Cups tells the cautionary tale of how Carson Yeung, a former Hong Kong hair stylist who made a personal fortune through gambling and stock market speculation, came to purchase the heroically underachieving Birmingham City.
As the sum Yeung's consortium paid – a frankly ridiculous £81.5 million – was hardly questioned at the time, so the book is less a narrative of one man's ownership of a club but more an exposé of the willingness of the football authorities, media and initially Blues fans themselves to wilfully ignore his financial shortcomings. Meticulously written by Daniel Ivery, whose excellent Often Partisan website is regularly the sole source of reliable and verifiable information on the club, and Hong Kong solicitor Will Giles, the story throws light on the murky nature of football finances and the profound effect that decisions made thousands of miles away can have on fans.
Yeung aside, the book includes a cast of pantomime villains that range from Birmingham's previous owners (Davids Gold and Sullivan), the Premier and Football Leagues and above all Yeung's acolyte Peter Pannu. Indeed since publication, this litigious former Hong Kong policeman has posted a series of offensive, rambling posts on Often Partisan, that may well be the catalyst for the change in ownership that Blues fans so desperately desire.
When sentenced to six years in prison for money laundering, Yeung was described as someone who was "prepared to, and did, lie whenever he felt the need to". It is to Ivery's credit that his single-handed and determined work has unravelled his story and produced a factual document that exposes not just the current plight of Birmingham City but the shortcomings of English football more generally. As Ivery and Giles say: "The Football League will not even talk to the media about how they police the game, preferring to hide behind soundbites. Football has become a honeypot for investors looking for a quick buck. Add in the additional element of international transfers which involve numerous unregulated intermediaries, then you can easily understand why it is attractive to money launderers." It's a cautionary tale of which fans of all clubs should be mindful.