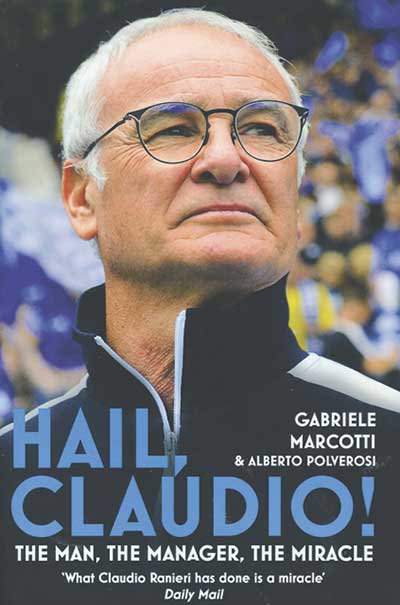 Yellow Jersey Press, £20
Reviewed by Rob Kemp
From WSC 360, February 2017
Buy this book
It's hard to find something bad to say about Claudio Ranieri, but just because something is hard to do doesn't mean one shouldn't try. In Hail Claudio! Gabriele Marcotti and fellow journalist Alberto Polverosi do their best to unearth any darker side with "hairdryer" highlights. It soon becomes evident, however, that for every example of "bad cop" there are countless more acts of kindness in the Ranieri backstory to outshine them.
Sure there's the moment, in his first weeks as boss at Valencia, when Ranieri tears a strip off of Romário for enjoying the Spanish night life a little too much. The authors also unravel the roots of his spat with José Mourinho – revealing that Ranieri unwittingly started it all. But these incidents pale into insignificance when compared to repeated tales of humble self-sacrifice, relayed by former team-mates and charges, stretching back to Ranieri's debut for Roma in 1973.
Even after playing in front of 80,000 fellow Giallorossi fans the young Ranieri would return to his dad's butcher's shop in Testaccio and take the day's deliveries out on his bike. His first impact as a novice coach at Campania Puteolana was to go out and buy a new kit with his own money – and when the 21-year-old daughter of his former team-mate Ubaldo Novembre dies suddenly Ranieri calls to comfort him for ten days. "I was going through one of the darkest moments of my life and Claudio chose, as his holiday, to spend his time with me to do what he could to alleviate the pain," Novembre recalls.
Almost as a Plan B Marcotti and Polverosi include a narrative which suggests that the miracle of Leicester City's Premier League title was a culmination of Ranieri's experiences as a father figure at Cagliari and Fiorentina, failure with Internazionale and Greece and 
luckless bridesmaid at Valencia, Chelsea, Roma and Juventus.
There are tales of team-bonding practical jokes and a "dilly ding, dilly dong" bell used to grab players' attention during training. The signing of Stefan Schwarz at Fiorentina draws an analogy with N'Golo Kanté's impact at the King Power Stadium while former Serie A and Uruguay striker Daniel Fonseca sums up his success under Ranieri with: "You could say I was the Jamie Vardy of Cagliari."
Ranieri's mastery at building title-challenging teams on a budget, especially at Roma, is well documented here – as is Leicester's success match-by-match – but it's his treatment at Chelsea that provides the strongest evidence for him being the most deserving of Premier League winners to date. Dropping club hero Dennis Wise, struggling to learn English – provoking Chelsea fans to chant "You don't know what you're saying" – and being a trail-blazing "Tinkerman" doesn't detract from the fact that by blooding John Terry and signing Frank Lampard, William Gallas, Claude Makélélé, Arjen Robben and Petr Cech he created a side that would win the title and give Mourinho his "special" status. Perhaps there is something bad to say about Claudio after all.