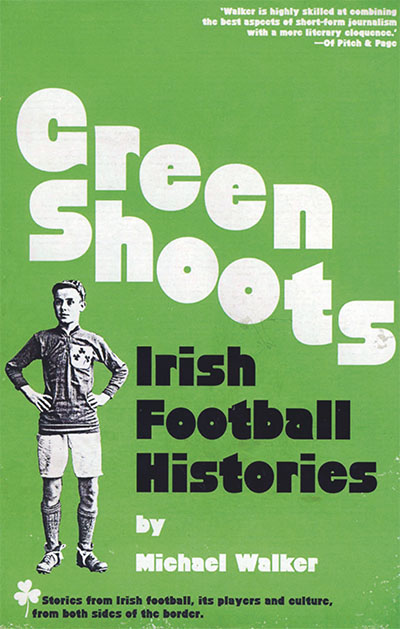 De Coubertin Books, £20
Reviewed by John Morrow
From WSC 373, March 2018
Buy the book
With Irish football on a high in the aftermath of Euro 2016 (the book predates the World Cup play-offs) Green Shoots offers an overview of its story. This is not a straight history, more a collection of anecdotes and interviews relating to the significant events in that history. This approach proves both a strength and a weakness.
The earliest sections profile individuals (mainly virtually forgotten figures such as the prolific goalscorer Joe Bambrick), including a lot of match reports and are occasionally plodding as a result. To cover for the lack of interviews with these players (all dead) author Michael Walker includes plenty of quotes from contemporary newspapers. The research is impeccable and Walker is dealing with people whose stories have in some cases not been told in print before, so all credit for breaking new ground with the resources available. However, as a well-established football journalist, he would have lost no authority and profited stylistically by paraphrasing his sources more than he did. The same is true for the stories of pioneering figures such as penalty kick inventor William McCrum and offside law rewriter Bill McCracken, which are formulaic but important and make good use of scant sources.
Subsequently the style changes to one mixing relevant interviews with Walker's own descriptive pieces. This works well in conveying immediacy, be it Belfast Celtic's Irish League exit or the 1993 international between the two Irelands, or when the interviewee is strong. Liam Brady is typically forthright and Paddy Mulligan engages. Both are especially enlightening on why the Republic of Ireland failed in the 1960s and 1970s despite having several outstanding players and the bureaucratic incompetence of both FAs. Lesser lights such as Johnny Crossan and Noel Campbell (the latter being the first Irish player in the Bundesliga) are also brought to life, and Gareth McAuley and Wes Hoolahan offer good insights on transferring to English football. Again, though, paraphrasing might have helped in some cases, with Brian Kerr verbose and Martin and Michael O'Neill guarded when discussing their (then) current roles.
Walker is to be commended for what he omits. The epilogue is about George Best although he is mainly a background character in the text, while the popular "where did it all go wrong, George" anecdote is thankfully absent. That Barcelona's saviour Patrick O'Connell only gets a brief recap is also a good idea given the recent biography by his grandson's wife. Walker also has a skill for turning up surprising facts, be it that Ireland also had a "Nazi salute" moment in a friendly against Germany or that Alan McLoughlin was called up by both teams for an Ireland v England B international. Some of the later sections are perhaps too familiar to reveal much new to readers acquainted with the Irish game, although outsiders will find them useful primers. Said outsiders should be aware that a working knowledge of 20th-century Irish history is assumed throughout.
Overall, Walker's labour of love is a triumph of research and storytelling with its quirks easily forgivable. As an episodic work it is ideal for dipping in and out of and is that rarest of books – one that is both rigorously authoritative and a great bog read.