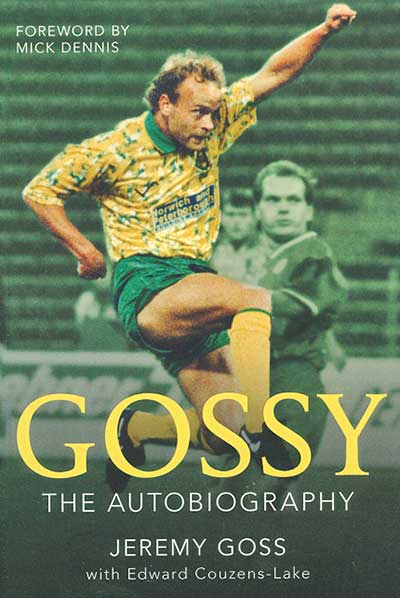 by Jeremy Goss with 
Edward Couzens-Lake
Amberley Publlishing, £12.79
Reviewed by Paul Buller
From WSC 336 February 2015
Jeremy Goss is not a player who can claim to have had a long and illustrious career. He did, however, light up English football in Europe after its very darkest days and brought myself and other Norwich City fans two seasons of sheer pleasure, the like of which we'll probably never experience again.
Best known for his UEFA Cup goals in 1993 that helped Norwich become the only English side ever to beat Bayern Munich at their Olympic stadium, the midfielder briefly became a household name. His rise to fame, however, was as much a surprise to him as it was to those of us in the stands at Carrow Road who'd watched him endlessly trudge up and down the sidelines hoping to get a game.
Goss's story charts his time in the wilderness very personably and it's hard not to feel for him. Stuck in the reserves at Norwich for ten years, to this day he holds the record for most consecutive picks as first-team substitute (18). He doesn't drink, he rarely goes out with the lads and he trains harder than anyone at the club. He's sick of hearing managers tell him "Your time will come, son". Yet every time he tries to move clubs, Norwich give him a new contract.
Perversely then, things work out for him just at the point he's decided he doesn't care anymore. He has become so sick of Andy Townsend getting picked ahead of him that he decides to go off the rails and enjoy a few pints, get a bit lippy around the training ground and nastier on the pitch. Enter the new manager, Mike Walker, who tells Gossy he's going to build the team around him. And he does. Goss becomes an integral part of a Norwich team who start the season by beating Arsenal 4-2 at Highbury, are eight points clear at the top of the inaugural Premier League in December and finish in third place having qualified for the UEFA Cup.
On top of this he starts scoring spectacular goals – namely 20-yard volleys that win him goal of the month on Match of the Day, an honour he is almost childishly (and touchingly) proud of. A season in Europe ensues and Goss plays his huge part in creating history. He and the team believe they're going to win the UEFA Cup and only Inter put a stop to it in the third round. And then his career crumbles as suddenly as it rose. Walker leaves for Everton, players are sold, Goss is back in the reserves.
Tales of banter are refreshingly scarce; this is a story of how hard work, dedication and an incredible belief gave Goss and his team their just rewards at a time when football was still more about competition than money. Gossy is a proper story and an interesting insight into what a footballer is actually paid to do – train, work hard, play and win. And he enjoys it. At the end of the book, whether you're a Norwich fan or not, you can't help but admire the man.