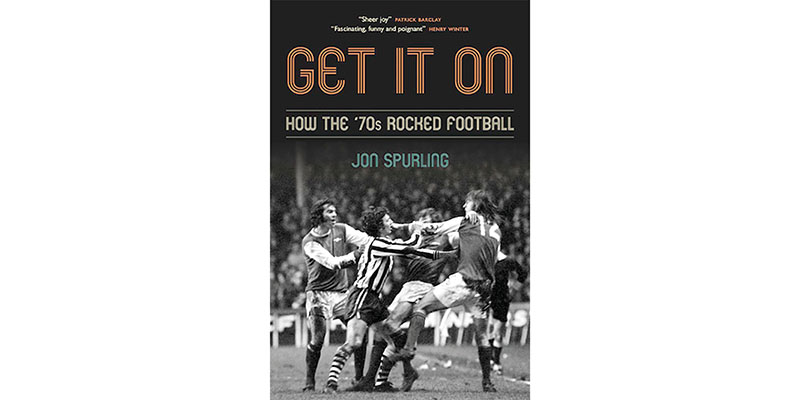 Biteback Publishing, £20
Reviewed by Tom Lines
From WSC 418, March 2022
Buy the book – WSC subscribers save £2
Sandwiched between the psychedelic idealism of the 1960s and the microchip-driven progress of the 1980s, the 1970s has always seemed like the poor relation of the post-war period. This is a decade painted almost exclusively in shades of brown. An era that struggles to escape the gravitational pull of its own aesthetic shortcomings – forever doomed to evoke Slade's Dave Hill sprawled across the bonnet of an Austin Allegro.
Despite being plagued by industrial strife and economic uncertainty, there's been a recent move among some historians to rehabilitate the 1970s as a period of calm before the neoliberal storm of Thatcher and Reagan. In Get It On, Jon Spurling attempts something similar for football, arguing that this was "the most cutting edge of all decades, blazing a trail for what followed."
Spurling's 1970s actually begin in May 1969 with Malcolm Allison helping to smuggle an ITV camera crew into Wembley for the FA Cup final disguised as Manchester City coaching staff. A violent altercation follows, as BBC employees desperately try to stop the commercial channel interviewing the victorious City players. This is not only a neat way of showing how the media was evolving – Allison would go on to play a starring role in ITV's groundbreaking coverage of the 1970 World Cup – but forms an intriguing introduction to the book's structure.
Rather than simply recounting each season chronologically, Get It On uses a single event as a jumping off point to explore a range of topics, from the rise of "provincial" clubs such as Derby, Nottingham Forest and Ipswich, to the evolution of football kits and the arrival of foreign players. Fascinating details are crammed into every chapter, including Millwall manager Gordon Jago's unsuccessful attempts to have Cold Blow Lane renamed "Montego Bay" and, at last, a definitive answer on whether Jimmy Hill had a bigger chin than Bruce Forsyth.
Occasionally the interconnectedness of the era becomes almost dizzying, as with the revelation that sports marketing guru Paul Trevillion's influence on Don Revie's Leeds United had been honed managing the early career of Rod Hull and Emu. But Spurling's real trump card is the fact he can draw on a wealth of personal interviews from his 25 years as a freelance writer. This allows him to deftly weave in contributions from some fascinating eye witnesses, from Emlyn Hughes on Bill Shankly's shock retirement, to Rodney Marsh admitting that signing for Manchester City cost his new club the League title in 1972.
Perhaps unsurprisingly, Brian Clough emerges as the dominant personality of the decade, with his position as football's great disruptor (and Sir Alf Ramsey's personal bête noire) reflecting the way British society was rebelling against the old order. With its million-pound players, star managers and growing commercial awareness, this is a vivid portrayal of a sport moving rapidly through the gears on its way to becoming unrecognisable within a generation. If 1970s football is due a reappraisal, Get It On is an exhilarating place to start.
Buy the book – WSC subscribers save £2
This article first appeared in WSC 418, March 2022. Subscribers get free access to the complete WSC digital archive – you can find out more here