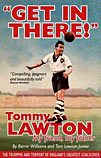 Tommy Lawton – My Friend, My Father
by Barrie Williams and Tom Lawton Junior
Vision Sports, £16.99
Reviewed by Harry Pearson
From WSC 288 February 2011
"Notts County will be the Arsenal of the Midlands." If anything demonstrates the cyclical nature of football it's this comment made by Magpies chairman Len Machin back in the summer of 1957. It is a statement that has been echoed in one form or another ever since by the owners and directors of provincial clubs – including, naturally, those of Notts County.
The occasion for Machin's proclamation was the appointment of Tommy Lawton as the new manager at Meadow Lane. Alas the great centre-forward met with even less success than one of his equally acclaimed successors, Sven-Göran Eriksson, and was sacked a year later.
That Lawton had been appointed at Meadow Lane was the consequence of one of the weirder episodes in English football history. In 1947, aged 28 and at the height of his powers (he was widely regarded – in Britain at least – as the best centre-forward on the planet), the big man from Farnworth near Bolton had left Chelsea for County for a transfer fee of £20,000. That England's most fêted striker should choose to drop down to the Third Division caused the sort of consternation you might imagine today if Wayne Rooney signed for, well, Notts County. Rumours of backhanders and illegal payments were rife.
The truth, according to Get In There, was altogether more prosaic. County's manager, Arthur Stollery, was an old friend of Lawton's and, in the days of the maximum wage, most of the star's considerable earnings (he was pulling in £3,000 a year at a time when your reviewer's father was earning £4 a week working as a draughtsman) came from endorsements, ghost-written journalism and personal appearances. Whether he played for the champions of England or a team that applied annually for re-election made little difference to his salary. Still, the decision appears perverse, and perhaps it was. Lawton – as it emerges in this entertaining, evocative and moving book – was a man who bridled against authority in an era when open rebellion was more or less impossible. He had wanted to leave Chelsea for Arsenal, but after his way was blocked by the Stamford Bridge hierarchy Lawton expressed his anger in the only way the draconian employment laws of the time allowed.
His England career might not have suffered, despite the drop down the League, had not Lawton openly demonstrated what would become a familiar trait among English footballers – a total lack of respect for coaching. Raised on the training methods of Dixie Dean at Everton, which involved suspending footballs from the stanchions of the stands then jumping and heading them hundreds of times, the striker referred to England coach Walter Winterbottom as "Summer-arse". "If you think you can teach Stan Matthews how to play on the wing and me how to score goals, you've got another thing coming!" he told the England manager. Unsurprisingly his international career ended abruptly and terminally.
Off the field, Lawton's was a tale that would also become sadly familiar. He lived a high life as a player, driving expensive cars and hanging out with a cast of minor celebrities (including Victor Barna, "five times world table tennis champion [who] was once engaged to Eva Gabor, sister of Zsa Zsa"), but after retirement problems with drink, debt and general bad judgement ended with court appearances for obtaining money by deception, insolvency and community service. That he eventually got his life back on track with the help of friends and the supporters of the clubs he had played for is testimony to his enduring popularity. Lawton remains one of those rare players who embody an era.