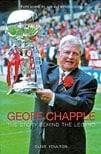 The Story Behind the Legend
by Clive Youlton
Stadia, £12.99
Reviewed by Simon Bell
From WSC 243 May 2007
Geoff Chapple never took charge of a League team. His managerial career never extended beyond the Conference and, although he saw his teams win five times at Wembley, they did so not in the FA Cup but in the FA Trophy, with the ground at best a quarter full. At first glance, then, an odd subject for a biography, let alone one that bears the startling subtitle "The Story Behind the Legend".
But there's more here than meets the eye, even if the primary market for the book – a relatively tiny congregation of non-League anoraks – is hardly going to try Amazon's server capacity. It's a local book for local people, but the story has charm and raises quite a few questions about what it is that makes a successful football manager, at any level.
The book takes a broadly chronological sweep through Chapple's career, touching briefly on his career as a semi-pro player in the old Southern and Isthmian Leagues before plunging into his managerial career with Windsor & Eton, Woking and Kingstonian, a career that brought him, as well as the five FA Trophy wins in seven years in the 1990s, six promotions within and from the Isthmian League structure, several FA Cup giant killings and a clutch of minor pots including an AC Delco Cup (you had to be there, really).
The recurrent question is: "How exactly did he achieve all that, then?" The ­recurrent answer is: "Buggered if I know." This was a manager who never supervised training, would avoid speaking to players unless he had to, showed little interest in tactics and often signed key players who had been found and approached by his assistant. There's no doubt that Chapple had firm views on how the game should be played – he was devoted to an eye-pleasing, passing game – and had the patter and people skills of a high-calibre salesman, his career outside football. But can that really be it? It's an eye-opener for anyone who believes that all successful managers, at whatever level, spend their leisure time like Arsène Wenger, poring obsessively over the latest match videos. Chapple, you feel, would not have sat comfortably through a ­demonstration of ProZone.
The tone does veer into the indulgent: the author was signed as a player by Chapple and makes no bones about how much he enjoyed writing the book. The affectionate vignettes of Chapple's life outside the game don't quite mesh with some of the straighter football talk, but this is no airbrush job. Too many of Chapple's enormous range of football contacts have been interviewed frankly for that and the richness of their agendas gives the book its texture. For the reader not steeped in the time and the clubs involved, there's plenty to take away on the way the non-League game functions, or used to, and the continuing creep of serious money into the game's backwaters is an intriguing part of the book's landscape.
If the man himself remains enigmatic, that's probably as it should be. A private man with a huge number of contacts but by his own admission few real friends, Chapple retains his mystique and charisma, and the clubs he left behind him are greyer places for his departure. The book serves him well.