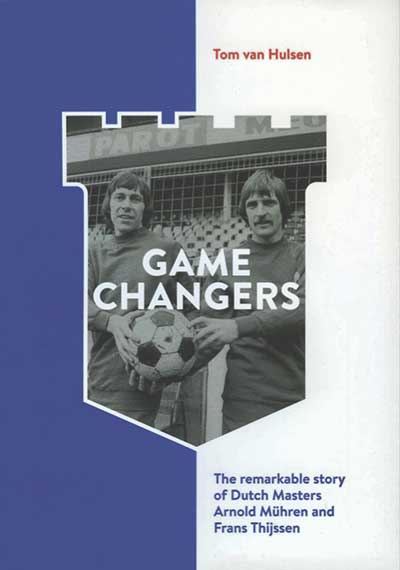 The remarkable story of Dutch masters Arnold Muhren and Frans Thijssen
Available from TWTD.co.uk, £16.99
Reviewed by Gavin Barber
From WSC 364, June 2017
There are two anecdotes in Game Changers which illustrate how the journey that Arnold Muhren and Frans Thijssen made from FC Twente of Enschede to Suffolk in the late 1970s may have been short in miles, but was evidently vast in culture. Each relates to their Ipswich debuts. Muhren asks the physio for a pre-match massage, something he was used to from his days at Ajax and Twente. "I don't do that sort of thing," comes the curt reply.
Thijssen, having had a workout in the gym, wonders how his new team-mates are preparing for the game. Wandering into the players' lounge, he finds Eric Gates, Paul Cooper and Alan Brazil sitting backwards on chairs, galloping across the room pretending to be jockeys. That both of these tales are told with polite bemusement, rather than anything approaching condescension, is indicative of the book's charm.
At the time of Muhren and Thijssen's arrival, English football – having seen the national team absent from the previous two World Cups – was tentatively embracing the notion that overseas players might have something to contribute. Bobby Robson persuaded first Muhren and then Thijssen to join Ipswich for a combined fee lower than that which Town had received from Arsenal for Brian Talbot. "From the summer of 1978 – with some reluctance it has to be said – the FA gave consent to employee traffic between countries of the EEC," the book recalls. This is a timely publication in more ways than one.
Robson looms large throughout, a much-loved leader and motivator, revered by Muhren and Thijssen not because he had all the answers, but because he listened to the questions. Muhren's friends in the Netherlands had advised him against moving to England because the style wouldn't suit him. Initially this appeared to be correct but, as Thijssen recalls, "He was open to new ideas and to get the best from us he changed the style of play at Ipswich". Robson's reward was a stylish, effective midfield, as well as the 1981 UEFA Cup.
The author was a teenage FC Twente fan when two of his idols left for Ipswich, and has followed their careers ever since. The book, originally published in Dutch, is a faithful account of their time at Portman Road, and benefits greatly from the perspectives of both the author and the protagonists: we learn what it's like to discover English football as a new thing. Even the one oversight in translation teaches us the pleasing fact that the Dutch word for "penalty" is "strafschop".
It gently paints pictures of Muhren and Thijssen: the former a calm, confident, dedicated man who followed his elder brother Gerrie to Ajax and the Oranje; the latter more spontaneous, relaxed, cheeky, and who took great delight in refining his repertoire of twists and turns to bamboozle English defenders.
Some of the detail here can be a distraction – we don't, for example, gain much by learning how the Ipswich press officer of the time came to get his job – but this is such a lovingly told tale that a bit of over-indulgence can be forgiven, particularly by Ipswich fans, for whom this is irresistible stuff. The contrast between then and now might be stark, but the unassuming Tom van Hulsen pulls off a neat balance between basking in the glow of nostalgia and shining a new light on very different times.