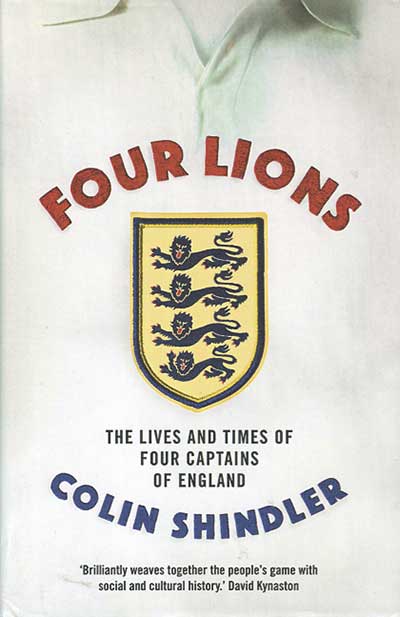 The lives and times of four captains of England
by Colin Shindler
Head Of Zeus, £18.99
Reviewed by John Earls
From WSC 356 October 2016
With barely a shrug at Wayne Rooney continuing as captain despite being an increasingly controversial choice for his club side, Cambridge University academic Colin Shindler has chosen an unfortunate time to launch his high-concept social history linking the state of the nation to England's captains of the era.
Shindler claims Billy Wright, Bobby Moore, Gary Lineker and David Beckham exemplify the England of the day, admitting early on that captains who don't fit that fag-packet theory weren't worthy of a section. That's unfortunate, as one of the strongest passages in Four Lions is Shindler's anger at Don Revie's England reign, which admittedly saw so many players given the captaincy that nobody could have credibly been written about in depth.
Shindler, author of the Manchester City memoir Manchester United Ruined My Life, repeats the book's premise so often that it's clear he's a little chippy at anyone who disagrees. Yet he admits that a 12-month spell which saw England go from losing 1-0 in Kevin Keegan's final game as manager to the 5-1 win in Munich didn't see many societal changes.
However flawed Shindler's premise, it's argued in an easygoing and readable manner. As well as being an academic, Shindler also produced Lovejoy, and he wears his research lightly, adroitly dropping in facts such as the huge increase from Alf Ramsey's £7,200 to Revie's £20,000 England manager wages. The insurmountable problem with Four Lions is simply that it lacks focus.
In trying to document social history as well as study the importance of England's captains, Shindler rarely settles on a topic in any depth. The maximum wage, hooliganism, racism, the introduction of the Premier League (which Shindler tries to claim only accidentally priced working-class fans out of the stadiums)… all get a couple of pages, but they invariably feel rushed and tokenistic.
If it's too broad to explain the changes in football and society, Four Lions is similarly flawed in exploring the importance of England's captaincy. We're told more than once that England place more status on our skippers than other countries, but never why we're so uniquely in thrall to the armband.
It doesn't help that, having secured an interview with Lineker, Shindler is faced with someone who admits he's never understood the importance of the role. Lineker mocks the histrionic fist-pumping stereotype, and you can picture him shrugging as he explains how he tried to grow into the job.
It isn't so much that England captains reflect the mood of the country, as it is Shindler trying to shoehorn his four captains to fit his theory. Shindler is a fluid writer and a solid researcher. But Four Lions is a post-war football history diary and a study of the role of England's captains shunted uncomfortably together. If it were a captain, it'd be Trevor Cherry – hardworking, competent, but uninspiring and out of place at the top level.