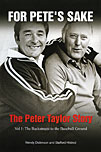 The Peter Taylor Story Volume One
by Wendy Dickinson & Stafford Hildred
Matador, £17.99
Reviewed by Harry Pearson
From WSC 286 December 2010
Gus van Sant makes films – Elephant, Final Days – that focus on a series of incidents viewed from complex mesh of different viewpoints. Maybe one day he'll turn his attention to the story of Brian Clough. Certainly there are already more than enough angles available on the bookshelves. Indeed, with new volumes appearing almost monthly (two more Clough biographies are slated for next year, and another one on Don Revie is on the way) it's hard to avoid a feeling that what we have here might be, to bowdlerise the words of Nigel Tufnell, "too much perspective".
Yet despite the familiarity of some of the history, For Pete's Sake is still a good read, dealing as it does with a man whose viewpoint has, until now, largely come to us refracted through the prism of The Great One. Wendy Dickinson is Taylor's daughter and she writes with genuine warmth of a father she feels has for too long been tagged simply as Clough's loyal lieutenant, a kindly older bloke with an eye for a player. This view has taken hold so firmly that I confess I was surprised to learn that Taylor was only half-a-dozen years older than his managerial partner, 26 when the two men first met.
Taylor began his career in football as a goalkeeper at Nottingham Forest before moving to Highfield Road where he was noted for his bravery and good looks (the reporter from the Birmingham Sports Argus was so smitten he described the Coventry City keeper as "comely"). He moved to Middlesbrough in 1955 and spotted Clough's talents as a striker in the first pre-season training match. The two became close but parted when Taylor left Ayresome Park for Tranmere and then a coaching job at Burton Albion.
At Burton Taylor proved to be no soft touch, ruthlessly sacking the entire playing staff bar four and bringing in – and this will sound familiar – a mix of unheard of youngsters, talented wastrels and old lags who most people considered past it. The result was a side that many regard as the best in the club's history, one that soon convincingly beat
3-1 a Bath City side managed by another tyro, Malcolm Allison. Things were going along nicely in the Midlands, when the phone rang one evening – Clough. He'd been offered the job as manager of Hartlepools United and wanted Taylor to join him. The offer came as a complete surprise – the two men had hardly spoken for four years.
As the author points out, managerial duos were unheard of in those days – if only because club chairmen baulked at the idea of paying two sets of wages. Taylor consulted friends and family. Most felt he should stay at Eton Park, but "Dad was a man who obeyed his instincts and he was very impetuous". He took a drop of £17 a week in wages to join his former team-mate, who made up for it a little by paying him a £200 signing-on fee out of his own pocket.
According to one Hartlepools player, Tony Parry, "Pete was always the manager in those days", yet somehow that message never seemed to get across to anyone else. In the local press Taylor was soon being shuffled off into what was to become his public role at Derby and Forest – backstairs attendant to the more charismatic and mouthy younger man. For Pete's Sake does a good job of bringing him out of the shadows at last.