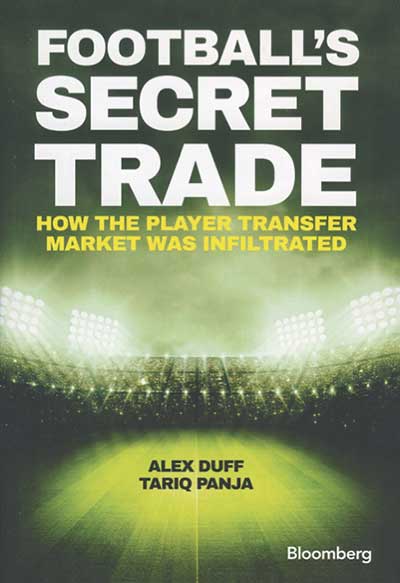 by Alex Duff and Tariq Panja
Bloomberg, £20
Reviewed by Jonathan O'Brien
From WSC 364, June 2017
Buy the book
"A player's arm is owned by one person, his leg by a fund based I don't know where, and his foot by a third person. I find that outrageous," Michel Platini once said of third-party ownership of players in football. When you've stopped laughing at the idea of a character such as Platini being shocked at such a thing, you must admit that the corrupt old fraud has a point.
When journalists Alex Duff and Tariq Panja sat down to write this book about the modern-day transfer market, they may have had players such as Eliaquim Mangala in mind. In late 2011, the Swiss lawyer Maurizio Delmenico bought ten per cent of the rights to Mangala for a London-based share firm called Robi Plus. Two and a half years later, Manchester City paid Porto £32 million for the defender – or not.
It transpired that Porto had ended up owning roughly 57 per cent of Mangala, and received £24m from City. Another ten per cent of him belonged to an Austrian marketing firm, and the remaining 33 per cent to the Doyen Sports agency. The total fee came to an eye-watering £42m. (Curiously, though, Duff and Panja seem to lose interest in this tale as soon as Delmenico's involvement ends.)
In a world where the news that Real Madrid pay Isco "only" £65,000 a week is greeted with incredulity, we can hardly be surprised that the game is clogged with dead-eyed opportunists drinking their heads off at the biggest financial free bar in the history of sport. We've all heard of Jorge Mendes, Pini Zahavi and Mino Raiola, but some of the most ruthless operators are those who are almost never written about.
One of the central characters in this book is Juan Figer, a former chess champion from Uruguay who goes to Howard Hughes-like lengths to avoid the press. Figer has reaped millions for himself and investors by moving players around Europe – his first big deal was Zé Roberto's move from Real Madrid to Bayer Leverkusen in 1998. Earlier, he had amassed a small fortune in Brazilian football by re-routing transfers through backwater Uruguayan clubs, then instantly loaning the players back to Brazilian teams.
Duff and Panja dutifully follow the money around the world, sifting through a bewildering and opaque web of shell companies and subsidiaries that will feel familiar to anyone who's ever read about the tax affairs of the super-rich. There's a blow-by-blow analysis of Neymar's controversial transfer from Santos to Barcelona, revealing how his father ruthlessly played Barça and Chelsea off against each other to maximise the financial gain; and a fascinating chapter on the ultimately unsuccessful efforts of Mark Goddard, an Australian FIFA official, to clean up the transfer system a decade ago (he resigned in disgust last summer).
But while cleanly written and informative, Football's Secret Trade feels more like a collection of piled-high details and factoids than a sweeping narrative – perhaps unavoidable, given the subject matter's inherent bittiness and murky nature. It also suffers from awkward exposition ("Real Madrid, which means Royal Madrid in Spanish," they write at one point), some misnomers (eg "Glasgow Rangers") and an irritating habit of referring to a team as "it" instead of "they".
Published by Bloomberg, it reads at times like a massively extended version of one of that organisation's news features; how much you enjoy it will probably be commensurate with your appetite for financial journalism in general.