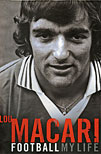 by Lou Macari
Bantam, £18.99
Reviewed by Jonathan O'Brien
From WSC 263 January 2009
There's a 30-year-old piece of footage, buried somewhere in the BBC's archives, of Lou Macari leaning out of the window of the Scotland team bus to talk to Tony Gubba, an hour or so after the 1-1 draw with Iran at the World Cup in Argentina. Despite the awfulness of the result, Macari looks awesomely relaxed, even though you can hear the enraged Scottish fans baying for the team's blood outside. If his own account in this book is to be believed, the cheekily carefree Macari of 1978 is long gone and not coming back.
For reasons that will become apparent later on, he wades dutifully through the old yarns with little discernible relish. There's a story of Dixie Deans being photographed looking doleful at a bus stop on Argyle Street, mere hours after missing the penalty for Celtic against Inter in 1972. Of course, it's the bus-stop element that makes this a strange story, but Macari seems unaware of this.
When he gets on to the Man Utd years, Tommy Docherty is painted as a man of rapid mood swings, cold-shouldering people one day, heartily slapping their backs the next. Dave Sexton ("a hard man") had a sensitive side, presenting each player with an original Harold Riley painting after they beat Liverpool in the 1979 FA Cup semi-final. One unnamed ignoramus threw his in the bin.
As a manager, Macari wasn't a patch on himself as a player. He was Celtic's least successful boss ever, failing even to get them into the UEFA Cup. He alludes to the ­dressing-room flare-ups that dogged the 1993-94 season but, irritatingly, won't name names, though Celtic supporters will be able to make two or three educated guesses. Fergus McCann, who sacked Macari after eight months, is portrayed as an autocratic oddball, opening meetings by lying on the floor to do stretching exercises. Macari accuses McCann of once trying to provoke him to violence, though the evidence is nonexistent.
At Celtic, Macari was accused of lazy work practices, a claim he rebuts by saying that he "used to dream about Celtic issues" at night. McCann, he says, wanted him behind a desk 24-7 and didn't understand the active nature of a manager's daily routine. But when you return from your scouting travels with Wayne Biggins and Lee Martin tucked under your arm, you can hardly expect your ­chairman to be your best buddy.
Some football memoirs are mundane for obvious reasons – the inherent dullness of the subject's personality, or the fact they are still barely old enough to order a legal drink. But a large clue as to why Macari's effort only fitfully gets off the ground is contained in the third-last chapter, where he confesses that the April 1999 suicide of his son Jonathan has drained most of the life out of him.
Macari's long-term reaction to Jonathan's death has manifested itself in various ways, among them the fact that he has since been unable to give much of a damn about football. "I let my son down… I did not make the right calls," he admits. Nine years on, he is still gripped by guilt. And so, understandably, a book that might have been an ebullient romp through an eventful career instead feels like a long trudge.