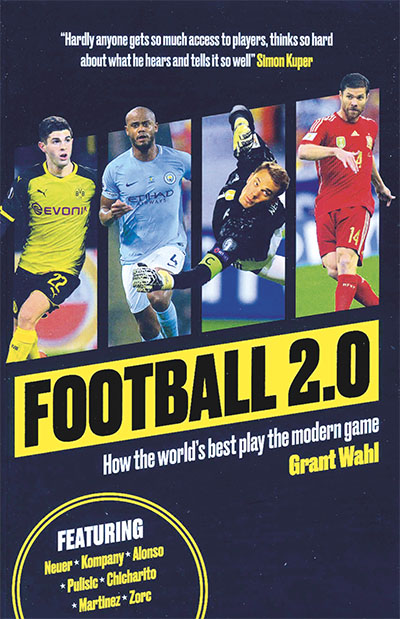 BackPage, £12.99
Reviewed by Charles Morris
From WSC 380, November 2018
Buy the book
Roberto Martínez is watching television at home with his wife on a rare evening off. The cosy domesticity is somewhat spoilt, however, because he is on one wing of an L-shaped sofa and she on the other, so that they can watch two different televisions installed on perpendicular walls. He watches football using headphones, while she enjoys a "soap".
The anecdote, related when his subject was in club management, is used by author Grant Wahl to illustrate the job's demanding nature. Martínez watches every one of his team's games ten times – 15 hours of viewing – so that he misses nothing of his players' performances.
Such stories illuminate this hugely informative book that explains how tactics and individual techniques have transformed the game this century. Wahl, a Sports Illustrated journalist, interviews five top players in their respective positions, as well as Martínez and Michael Zorc, Borussia Dortmund's lauded sporting director, to gain a range of off-field and business perspectives.
The first thing to admire is the remarkable access Wahl has gained to such players, spending hours questioning them about their team roles and the skills required, and together watching video clips of them in action to illustrate their answers.
His line-up is Manuel Neuer, Vincent Kompany, Xabi Alonso, Christian Pulisic and Javier "Chicharito" Hernández. Pep Guardiola, incidentally, emerges from these interviews as a hugely influential figure in modern football. Germany's Neuer analyses his innovative "sweeper keeper" style, acting as another outfield defender to allow the back line to move up the field and force possession closer to the opponents' goal. This requires ability beyond traditional goalkeeping skills. For instance, during the 2015-16 season, Neuer completed more passes for Bayern Munich – in fewer games – than the French striker Antoine Griezmann did for Atlético Madrid.
Kompany explains how defending is more difficult since the game has become more dynamic and skilful, but reveals one trade secret – how to win aerial duels. "The only thing you have to do is fight for the spot where the ball is going to land. If you own that zone, it's going on your head."
The importance of positioning, first touch and thinking ahead are emphasised by Alonso and Pulisic, Dortmund's young American star. They do not just pass to a team-mate but decide whether it would be more advantageous for him to receive it on his left or right side. Alonso also keeps one eye on his team's attacks breaking down so he can cover any counter-attack.
Hernández relates the multiple requirements of a modern striker: to be two-footed, quick, find space, pass well and defend. He is also fascinating on how teams incorporate set strategies in open play, not just at set pieces.
Including a full-back would have been a useful addition, given how that role has changed from defender to wing-back and is nowadays an integral part of attacking strategy. But that is a minor quibble. If you want to know how today's top-level game is played on and off the pitch, few books will tell you more.