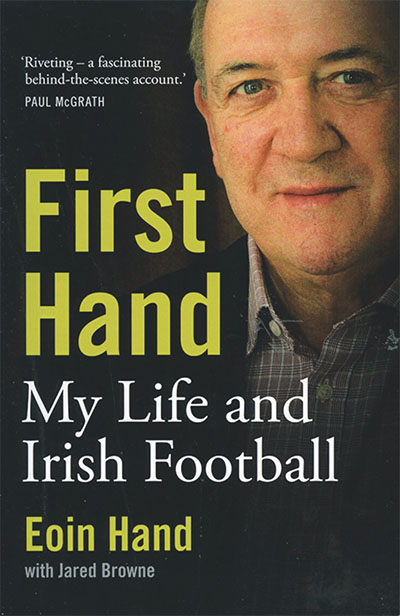 The Collins Press, £17.99
Reviewed by Dave Hannigan
From WSC 374, March 2018
Buy the book
An old journalist friend once showed me a photograph he took of Eoin Hand, then Ireland manager, and Johannes Atlason, his Icelandic counterpart, sitting on a couch at a house party in Reykjavik hours after a European Championship qualifier between the countries in 1983. Beers had been drunk and they were both mesmerised by the sight of the late, great Tony Grealish, the Ireland captain, playing the spoons and belting out an Irish folk song. A snapshot of a unique moment in international football.
That picture offers an insight into why this autobiography is worth reading. This is not so much a story from a different era as from a different sport. A journeyman defender with Portsmouth and Ireland in the late 1960s and early 1970s, Hand managed his country in the years immediately before Jack Charlton's more prosaic approach yielded qualification for Euro 88 and a lot of history-making thereafter. In contrast, Hand's was a reign pockmarked by ill-fortune, most infamously a Portuguese referee disallowing a perfectly good Frank Stapleton goal in a crucial World Cup qualifier against Belgium in 1981, and he is fondly remembered as perhaps the unluckiest Irish manager of all.
Yet, as he recounts here in fascinating detail, the job he did was remarkable given the consistently stingy, frequently bizarre policies of his bosses at the FAI. When Hand announced his intention to travel to the 1982 World Cup to scout future opponents and to keep abreast of tactical developments, his employers were baffled and refused to pay his expenses.
He went anyway, bunked down in an apartment rented by Irish reporters, got into one game as a passenger on the Northern Ireland team bus and sourced tickets for another from England's Ron Greenwood. That was nothing. He'd once impersonated a television commentator to gain access to a fixture the FAI didn't think he needed to see.
As infuriating as the amateurism must have been then, it does make for hilarious and entertaining autobiographical fodder. His account of Ireland's tour of South America at the height of the Falklands War (classic FAI timing) has enough drama to warrant a mini-series. Hand may not be box office but this is an impressively peripatetic football life.
One minute he's leading Limerick United out at the Santiago Bernabéu in the type of early round European Cup tie that epitomises the random romance that competition once created. The next, he's in South Africa managing AmaZulu, a stint that ended when a group of agitated fans led by a tribal chief arrived at training and warned him: "You must go or we will kill you." He went.
The book is ghostwritten by Jared Browne but to his credit the voice is unmistakably Hand's, as he unfurls yarns stretching across the decades, from the football hotbed of Dublin's northside in the 1950s to managing Huddersfield Town in the 1980s to dipping his toe into the Saudi Arabian club scene in the 1990s. His need to earn a living from the game led him on an extraordinary journey and sharing it makes you wonder what many footballers of the present time will have to write about when their turn comes.