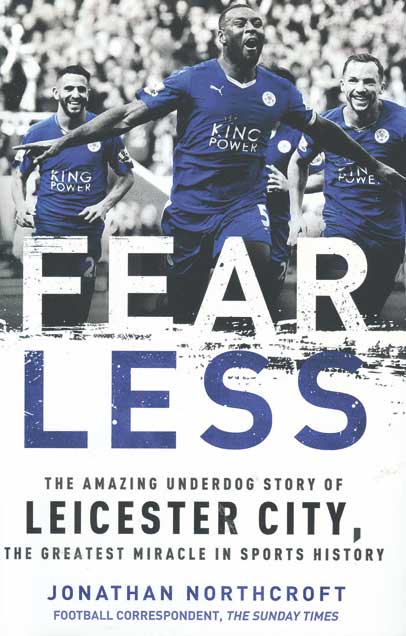 The amazing underdog story of Leicester City, the greatest miracle 
in sports history
by Jonathan Northcroft
Headline, £20
Reviewed by Paul Rees
From WSC 357 November 2016
The glut of books purporting to analyse Leicester City's Premier League title triumph has been as inevitable as the 2015-16 domestic season was unpredictable. Relatively, Jonathan Northcroft, a widely respected football writer with the Sunday Times, has taken his time with Fearless.
The last ball of the campaign had barely been kicked before tabloid veteran Harry Harris and Rob Tanner of the Leicester Mercury, to name but two, had banged out respectively The Immortals and 5000/1: the Leicester City Story.
Given a few additional months, Northcroft has been able to touch upon the departure from the club of midfield linchpin N'Golo Kanté to Chelsea and Leicester's faltering start to the current season. Yet his book is otherwise as blighted as Harris's and Tanner's were by haste and its sheer proximity to events.
Reading Fearless one is left with nothing so much as an overwhelming sense of having travelled an already well-trodden and over-familiar path. Northcroft dutifully trots out the more recent back story: Leicester's escape from relegation in 2014-15, the subsequent sacking by the club's Thai owners of manager Nigel Pearson and the arrival of Claudio Ranieri, immediately installed as favourite in the Premier League sack race.
Ditto the sudden elevation of Kanté, Jamie Vardy and Riyad Mahrez to the status of household names and the key roles played by the club's sports science and recruitment departments, but without fresh or substantive detail being offered. Similarly, though he has managed to speak to a handful of the players, team captain Wes Morgan and goalkeeper Kasper Schmeichel among them, these apparently snatched conversations yield little insight beyond a litany of dressing room pranks and expressions of team spirit.
Overall, Northcroft only touches upon context, mentioning in passing that Ranieri had twice in his native Italy failed to land Serie A titles that were in his grasp and how in 1962-63 a Leicester team that included the great Gordon Banks had led the old Division One with five games to go only to blow up.
However, he does not follow through on these or other potentially diverting threads. Likewise, he offers no more than pen portraits of his key characters. We are given plucky, uncouth Vardy and sweet, enigmatic Ranieri, with the darker, seemingly uglier aspects of the former's character and the deeper, bruised depths of the latter left mostly uncharted.
A mention of Ranieri's displeasure at Kanté's leaving aside, there is also no space given over to how fleeting Leicester's bucking of the odds is likely be, or to what, if any, wider impact it will have on the game as a whole.
It doesn't help that the narrative is structured in such a random, scatter-shot fashion that it has little coherence or drama. Nor that in the rush to be published no one seems to have allowed for the author's copy to be diligently edited.
That might, at least, have rid the book of its frequent repetition and of such plain baffling descriptions as this of Robert Huth: "The giant lone pine chuckling at the sycamores on the other hill." And though ultimately Leicester's story may well be amazing, it is not in this rendering.