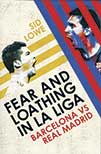 Barcelona vs Real Madrid
by Sid Lowe
Yellow Jersey, £18.99
Reviewed by Dermot Corrigan
From WSC 322 December 2013
"Barcelona good, Madrid bad" is a pretty common idea among English-speaking football fans. Even those who question the Catalan club's "football philosophy", or its board's financial dealings with Qatar and Brazil, still often see Barça as purer than, and morally superior to, their rivals from the Spanish capital.
This idea can be traced all the way back to George Orwell's Homage To Catalonia – and is just plain wrong, according to Sid Lowe's new contribution to the growing pile of English language books on Spanish football.
Fear And Loathing In La Liga: Barcelona vs Real Madrid takes a broader approach than most, looking closely at the impact of political and cultural trends on the game, including epigraphs from writer Antonio Machado and Swansea City attacker Michu. The early 20th century poet's quote is of "the two Spains", a famous line referring to the pre-Civil War right-left political divide. But Lowe appears to agree more with the modern player's preference to avoid choosing one or the other.
The strongest chapters consider the effect of the 1936-39 conflict on football and turn over some pretty widely held preconceptions. Madrid (the city) was not Franco's base, instead it suffered the fiercest nationalist attacks. This meant Real Madrid had to stop playing official games, their ground was ruined, and their republican club president Rafael Sánchez Guerra was imprisoned when the city finally fell to Franco's forces. Barcelona was less directly impacted by the fighting, so FC Barcelona kept playing in the Catalan Championship and Mediterranean League, then toured North America.
During the first 15 years of the dictatorship the Catalan club were also more successful, winning five La Liga titles to Real Madrid's none. In those years the Barça boardroom was stuffed with well-connected businessmen, just as it is now. Professional football clubs – in Spain under Franco, just as in England under Tony Blair – tend to go with the political flow. Which explains Barcelona's current embrace of Catalan nationalism.
Lowe's impressive list of interviewees includes Alfredo di Stéfano, Johan Cruyff, Luís Figo, Zinedine Zidane and Andrés Iniesta. He uncovers new archival evidence about how Barça president Josep Sunyol died in 1936, and why Di Stéfano joined Madrid not Barça in 1953. There are also neat mentions of Barça's (unwitting) role in the murder of Leon Trotsky, as well as Madrid's links to the Beatles in the 1960s and Pedro Almodovar in the 1980s. It's a rare book that discusses ETA (the Basque separatist organisation) and Michael Owen on the same page.
The weakest section is towards the end, as by now there is little new to say on José Mourinho the ex-translator versus Josep Guardiola the former ballboy. But that's a minor quibble. We have already seen how closely Spain's two biggest clubs have mirrored each other through the years. Real Madrid and Barcelona do not represent different strands in Spanish history, or competing political points of view, they're just two sides of the same coin.