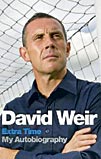 My autobiography
by David Weir
Hodder & Stoughton, £20.00
Reviewed by Craig McCracken
From WSC 303 May 2012
David Weir's autobiography Extra Time is well timed, coinciding as it does with the apparent winding down of his playing career at the ripe old age of 41. Weir is a player who feels as if he belongs in an older, simpler era of the game – a proud professional more interested in captaining club and country than money and material possessions.
Extra Time is a straight down the line retread of his career, through his solid upbringing, a footballing scholarship in the US and a professional career as a respected and liked defender through an upward trajectory of clubs – Falkirk, Hearts, Everton – all before that unlikely Indian summer with his boyhood idols Rangers.
Anyone approaching this book expecting to see another side of David Weir than his understated public image will be disappointed. He may be Scottish, but this is no traditional Scottish boom and bust narrative of birds, booze and baptism. It is no great confessional or score settler either. In fact you quickly yearn for a subject beyond his family, on which Weir has strong views.
There are tantalising glimpses of potential. He writes about his Falkirk team-mates Forbes Johnston and Paul McGrillen, who both later committed suicide. It is a complex subject, but Weir skims past it in little more than a sentence, musing on whether players are given enough support when their careers come to an end.
This sets the tone. Weighty issues like sectarianism are touched upon but never really engaged with satisfactorily. We are left wondering whether Weir really has no trenchant views or is too naturally self-effacing to want to court controversy in print.
Discussions of team-mates do not really illuminate things either, with bland platitudes trumping insider insight. Darren Jackson is "really good fun", while Billy Dodds was "just dead normal". Apparently Colin Calderwood had "no edge to him" and Craig Short "had been round the block". Technical descriptions of opponents offer little revelation – we are told that "Alan Shearer worked the channels well".
You sense that Weir's sheer decency is a hindrance when it comes to talking ill of people. The notoriously unpopular Kevin Muscat can rarely have attracted as mild a rebuke as Weir's "I didn't take to him" comment.
The villain in this story is ex-national manager Berti Vogts, with whom Weir had a difficult relationship. There is indignation on display about this episode, but Weir does not launch in two-footed. He still feels compelled to point out that he found Vogts to be a nice guy on a personal level.
Extra Time feels a smaller and more insular book than it should be. Ghostwriter Douglas Alexander fails to lift the prose, which continually drifts into wearying, dressing-room cliche. "Had we scored we would have gone on to win. The fact is we didn't score." Rather than an expansive story about a successful and well-travelled international footballer, Extra Time reads more like a cosy, wee, homespun chat around the fire with the local newspaper.