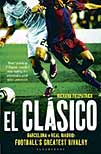 Football's greatest rivalry
by Richard Fitzpatrick
Bloomsbury, £12.99
Reviewed by Andy Brassell
From WSC 308 October 2012
If there is a sign that Barcelona and Real Madrid's gradual colonisation of the summit of world football is inexorable, then the fact that the pair are beginning to take a grip on the world of sports book publishing is it. El Clásico enters a crowded marketplace, with Graham Hunter's fascinating access-all-areas portrait of Pep Guardiola's Barcelona recently released and Sid Lowe's tome on the rivalry to come.
Fortunately, it stands up very well on its own merits. Joining the dots between the historical genesis of the rivalry between Spain's two biggest clubs and El Clásico's current position as the pinnacle showpiece of the club game, Richard Fitzpatrick chips away at a few myths, while maintaining genuine balance throughout.
Carefully positioning himself as an outsider, the author never lets ego get in the way of exploring the subject matter as thoroughly as possible. There is no streak of self-righteousness in an attempt to sound authoritative. Instead, Fitzpatrick gives voice to a huge range of opinions and personal stories from both sides of the fence.
One of El Clásico's main strengths is that it resists tired stereotypes in describing key figures such as José Mourinho and Guardiola. The Real Madrid boss is neither canonised nor demonised but presented as a rounded character – sometimes laudable, sometimes needlessly cruel. His erstwhile Barça counterpart is portrayed within his historical context at the club, from arriving as a skinny teenager at La Masia in 1984 through his development into Johan Cruyff's on-pitch leader. Similarly, Fitzpatrick looks deep into the characters of Luís Figo and Vicente del Bosque, two figures often presented in cliche.
A lot of time is spent discussing the clubs' present-day relationship but the author's efforts in scratching beneath the modern marketing sheen to unearth the subculture of the two clubs are highly laudable. A chapter is spent analysing the main hooligan groups of the two clubs, Real Madrid's Ultras Sur and Barça's Boixos Nois. They may be niche – as the book acknowledges, partly due to the fact that away support is far less numerous in Spain than England, where the groups draw much of their inspiration from – but both still have a foothold in their respective clubs.
In the case of the Ultras Sur, this extends to tacit endorsement by current management and players, while Fitzpatrick gives a detailed description of Boixos Nois terrorising "normal" Barça fans at away matches, as well as the serious criminality within the group. As well as providing compelling reading on its own, it works well in further blurring widespread presumptions about political lines being the overriding definition
between the two clubs.
The leaps between concepts can be a little jarring and abrupt but this is generally a skillfully woven narrative of the clubs' rivalry from assumed political opposition to global commercial competition. "This is a hypocritical world," Mourinho says to begin a rant in one chapter. That Fitzpatrick acknowledges the nature of Real Madrid and Barcelona's world as such is what makes El Clásico such a satisfying read.