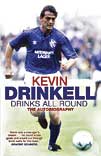 by Kevin Drinkell
Black and White, £14.99
Reviewed by Pete Green
From WSC 293 July 2011
Kevin Drinkell was a great centre-forward whose career never quite hit the top. There's a credible argument that he was unlucky not to have made the England squads of the late 1980s. This was partly down to the wrong transfers at the wrong times, admits the player in this autobiography, and partly due to the intransigence and skulduggery of Robert Chase, his chairman at Norwich, in handling approaches from Manchester United and Tottenham.
And there's a story worth telling in here. You have to laugh when Drinkell scores against Wimbledon during his time at Carrow Road and John Fashanu points to an area of the pitch, declaring: "The Fash is creating a war zone. Whoever dares to come in better be ready for war." It's not without interest for supporters of Drinkell's clubs. The acid test of an autobiography whose subject never quite hit the top, however, is whether its appeal will extend to a general reader with no such emotional investment. This is not a test that Drinks All Round comes through.
Why? It's just hard to avoid the conclusion that the book would have been a lot more pleasing to the reader had someone with the vaguest feeling for language been involved somewhere in its publication. A ghostwriter who could breathe life into this dead prose, an editor teasing out more detail, even a competent proofreader would have helped. This isn't a life story: it's a list of stuff that happened. Even that limited ambition is not always fulfilled (Kevin Kilmore joined Grimsby from Scunthorpe, not Stockport).
We have language, then, that clumps about awkwardly like a wooden leg on a dancefloor ("a win-win situation for us both") and is sometimes just plain mystifying. Drinkell considers becoming an agent and: "Being the belligerent type, I decided to look into the requirements." We have thematic links that would have been rejected as too banal by regional TV news presenters in 1985. In singalongs on the Norwich team coach, Drinkell's team-mates were "killing classics from the likes of the Eagles and Dire Straits". Paragraph break. "Thankfully I wasn't hitting too many bum notes on
the pitch…"
With style seemingly disregarded, there's a lot riding on content. Drinkell offers some previously unknown insights from behind the scenes at Grimsby and Coventry, and he was with Rangers at an interesting moment, their key challenge issuing from Aberdeen rather than five miles to the east. Throughout the book, the author's honest appraisal of team-mates and management does him credit.
But real analysis is at a premium. Drinkell's team-mates at Ibrox explain sectarianism "in pretty simplistic terms", but simplistic seems to have been enough. "I grew up respecting our monarchy and being told I was playing for Queen and Country was all the motivation I needed." Wow.
Similarly, the closing chapters, where Drinkell moves into coaching with Stirling Albion, seem in a hurry to get the whole thing over and done with. Ever wondered how a manager prepares for and feels about his first ever game in charge? "We managed to get a win thanks to an Ian McInnes goal. It was our first league win in over two months." Ultimately, though its intentions might be worthy, Drinks All Round is a half-hearted and unsatisfying book. And that's all the more disappointing from so full-blooded and thrilling a player.