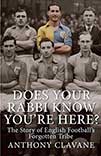 The story of English football's forgotten tribe
by Anthony Clavane
Quercus, £17.99
Reviewed by Mike Ticher
From WSC 310 December 2012
After Jack Ruby shot JFK's killer Lee Harvey Oswald, he said he'd done it "to show the world Jews have guts". Almost no one ran with that implausible claim, except the great Jewish comedian Lenny Bruce, who half-joked that "even the shot was Jewish – the way he held the gun".
Anthony Clavane's remarkable history of Jews in English football reminded me of Bruce, in that few Gentiles would think of Brian Glanville, David Pleat or David Dein as having had a "Jewish" influence on football, any more than of Ruby primarily as a Jewish assassin. That indifference, or even ignorance, is clearly a good thing if it means anti-Semitism has had little bearing on how such people have been judged (a big if, in Clavane's view). But seeing them through a specifically Jewish lens is a fascinating and at times confronting experience.
Informed by a commanding grasp of English Jewry's identity struggle since the great migrations, Clavane argues that football has been a key way for Jews to "become English" and be accepted. The rise of Lord Triesman and David Bernstein in the FA suggests the journey is all but complete.
Clavane's book is packed with wonderful portraits and sharp insights into Manchester City, Leeds, Tottenham and Arsenal, among others. His research is outstanding, the complexity of his argument deftly handled and his snapshots unforgettable: the 1960s Orient directors Harry Zussman, Bernard Delfont and Leslie Grade handing players cash, tickets to the Royal Variety Performance and their own expensive clothes (defender Malcolm Lucas saved Grade's reversible lemon/light blue cardigan "for important dos"); Manny Cussins slipping away to work in the local branch of his furniture chain on away trips with Leeds; Pleat's Yiddish-speaking mother greeting him after every defeat with the words "So, where was the goalkeeper?".
The author sees the Jews who have flourished in football typically as outsiders who brought "a new vision, a fresh slant" – from Willy Meisl's 1956 polemical book Soccer Revolution, through Glanville's groundbreaking journalism to Edward Freedman's commercial revolution at Tottenham and Manchester United. In this light the Premier League looks startlingly like an all-Jewish production, with Irving Scholar and Dein in the lead and strong supporting roles from Alan Sugar, Alex Fynn and even, inadvertently, Lord Justice Taylor.
At times Clavane is so eager to welcome the growing influence of such "modernisers" that he disregards the wider consequences of their actions. Has the FA's reputation improved since Jews broke open its cosy elite? Barely. Should we celebrate the influence of Robert Maxwell (mentioned only in passing) or regard the power of Roman Abramovich or Pini Zahavi as a triumph over anti-Semitism?
It's hard to gauge how fierce that prejudice was, particularly off the field. Anti-Semitism, particularly the polite British variant, often goes unspoken and unwritten and is all the more insidious for that. Clavane often refers to unsourced "mutterings" and "references to a so-called kosher nostra" but direct evidence is sketchy.
He quotes the Burnley chairman Bob Lord, at a Variety Club function in 1974, saying: "We have to stand up against a move to get soccer on the cheap by the Jews who run television." I'm not sure if that quite amounts to Clavane's conclusion that "the game's traditionalists insisted it would be a tragedy if the Football League sold out to a race that was disproportionately represented in the entertainment business". Lord was a traditionalist in some ways but hardly a typical one – although it's equally arguable he was the only one willing to say what others thought.
On the field anti-Semitic sentiments were much clearer, though often aimed at general targets (Tottenham above all) as much as the small number of Jewish players. Some of the best material in the book deals with the refusal to accept insults by the working-class boxing and football clan around the Lazarus family, including Barry Silkman and Orient's Bobby Fisher. Silkman says of his relative Mark Lazarus, scorer for QPR in the 1967 League Cup final: "Lovely fella, didn't go looking for trouble, but if someone called him a Jew they'd be horizontal."
Clavane suggests interesting reasons for Tottenham's association with Jews – including the quirks of London's transport network and the inward-looking nature of the "natural" East End club, West Ham – although the claim that one-third of their fans in the 1930s were Jewish seems high. He is surely right that the carefree abuse of Tottenham as "yids" was fuelled by Warren Mitchell (grandson of Russian Jews) as Alf Garnett in Till Death Us Do Part.
There is a lot to debate here but the depth and warmth of Clavane's work is a giant contribution to a subject long overdue proper attention.