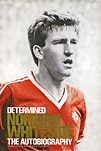 The Autobiography
Norman Whiteside
Headline, £18.99
Reviewed by Joyce Woolridge
From WSC 249 November 2007
It's June 1991, and Norman Whiteside won't get out of bed. His fearless attitude on the pitch inspired a Manchester United fanzine, The Shankhill Skinhead, but he spends his "bed-in" crying, unable to come to terms with the reality that he is finished as a footballer at 26. So begins Determined, his autobiography, and he spares readers none of the harrowing details as he traces how a series of medical decisions, made in good faith and often the standard treatment then available, had, as he puts it, "done for him" by the time he was 18. By that tender age he is unable to rotate his hips, giving him his trademark robotic-style run, has lost his pace, and has a knee in which bone grinds against bone. Chips will henceforth regularly flake off into the joint, causing excruciating pain, swelling it up to the size of a swede, necessitating further surgery. Injuries used to be discussed in macho style in football autobiographies, an inevitable consequence of a man's game, the honourable scars of battle. The recent trend of revealing the pain, both physical and mental, of professional football is refreshing and welcome, if often difficult to read without wincing.
Unlike the traumatic Back From The Brink, written by his boozing partner and mate Paul McGrath, Whiteside's book, as befits such an ebullient, confident and rather likeable personality, soon shifts into a positive mood. "Stormin' Norman" goes off to study GCSE Biology at South Trafford College, ­enduring the constant scrutiny and incredulity his presence inspired, as the first step towards his eventual podiatry degree and new direction. The narrative shifts back to his childhood on the Shankhill Road, refusing to sensationalise his upbringing in the heartland of Loyalism, stressing instead the solid values he received. Whiteside was a genuine boy wonder, the first of many new George Bests, although, as he declared in a TV interview: "The only thing I have in common… is that we come from the same place, play for the same club and were discovered by the same man." His career is full of iconic moments, from unseating Pelé as the youngest player to appear in a World Cup with Northern Ireland in 1982, to scoring the goals that made him a cult figure on the Stretford End – particularly against Liverpool and that winner against the odds in the 1985 FA Cup final.
There is an interesting take on Ron Atkinson's managerial skills and style, arguing that he was a more ruthless, calculating and intelligent leader than he is generally depicted. The 1980s United team, packed with talent but underachieving, has been much discussed in several new books. As someone considered to have been at the forefront of the "drinking culture" that many point to as the main reason for the underachievement, Whiteside doesn't gloss over his fondness for the odd pint or seven. However, he claims it was not detrimental and that he actually spent many free afternoons with his wife, visiting National Trust properties. He almost convinces you that he got along fine with Fergie, too. Determined is an entertaining, well written account of one of the less ordinary 1980s footballers, with the added twist of how Whiteside was able to rebuild his life, if not his knee.