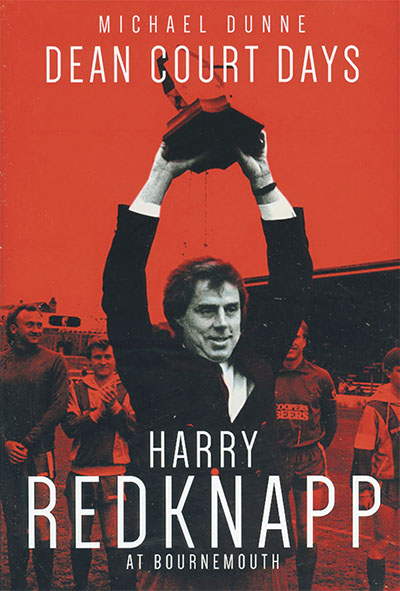 by Michael Dunne
Pitch Publishing, £18.99
Reviewed by Simon Melville
From WSC 379, September 2018
Buy the book
Twenty-five years after his divisive exit as Bournemouth manager, Harry Redknapp is now a mostly warmly remembered figure for Cherries fans. The passage of time, player loans from his spell as West Ham boss, and the subsequent race up the divisions have softened the bad feelings left by the club's parlous financial state when he departed.
The main cause of this ire was his reported £100,000 pay-off at a time when the collecting buckets were out just to keep the club afloat (a common sight at Dean Court down the years) – this along with any number of calamitous financial situations during Redknapp's reign as Bournemouth manager between 1983 and 1992 are detailed in Dean Court Days.
But before this sour end note there were the successes that made Redknapp's name as a manager and what were then the only really high points for Cherries fans in living memory – the 1984 Associate Members' Cup victory, knocking Manchester United out of the FA Cup in the same season and, most importantly, winning the old Division Three in 1986-87.
The subtitle of the book is "Harry Redknapp at Bournemouth" which means we only get to his spell as manager of the Cherries at page 116 (a famous 9-0 reverse at Lincoln) having first been told about his playing career on the south coast after leaving West Ham. Although he made just over 100 appearances on the right wing over four years, the litany of injuries (groin, knee, ankle) suffered in his stop-start time on the pitch is almost comical – as is his anecdote about being treated by pre-war England international-turned-physio Arthur Cunliffe with an ultrasound machine that wasn't even switched on.
Like most football bios supported by trawls through the local paper's microfiche archive there are perhaps too many line-up details, attendance figures and anodyne post-match comments for games of little importance – Combination League reserve run-outs to regain fitness are a recurring feature. We even get to know about a throw-in he takes in a 1975 cup tie against Hereford.
The big appeal of this book for Cherries fans will be a recounting of the 1986-87 season when Bournemouth won the Third Division with a then-record total of 97 points and a squad of players still much-loved and remembered today – among them Luther Blissett, Gerry Peyton, John Williams and Richard Cooke.
One more season of second-tier football followed but 1989-90 ended in a disastrous relegation due to a 1-0 home loss to Leeds which saw large sections of the visiting support rampage through the town. This poisoned relations between the wider Bournemouth community and its football team for the next two decades.
Due to that relegation, Redknapp's time as manager peters out. His messy exit also means this book ends in anti-climax before briefly covering the many travails of multiple owners, money problems and unsuccessful managers until the appointment of Eddie Howe in 2008. Until a book of these unusually successful times is written, Dean Court Days will stand as an enjoyable record of when Bournemouth last tasted success playing good football.