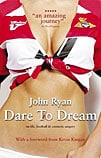 On Life, Football & Cosmetic Surgery
by John Ryan with John Brindley
Scratching Shed, £15.99
Reviewed by Glen Wilson
From WSC 281 July 2010
"Just a lad from a Doncaster council estate", John Ryan made his money in cosmetic surgery, not as a surgeon, but as a salesman. As he himself says: "I've always seemed to have the ability to persuade people to do what I want." So we can all be thankful that he chose to channel his powers to resurrecting his hometown football club rather than becoming the world's first true super-villain. A life-long supporter, Ryan has taken Rovers from their lowest point to their highest, and all in little more than a decade.
Ryan has never been shy of offering his opinion (indeed he devotes a whole chapter to getting things off his chest). He's always more than happy to speak to the media and to his credit the fans as well, but the showmanship which earned him the nickname "Mr Champagne Man" during his first stint on the club's board in the early 1990s has never been to everyone's liking. When Ryan appeared in Rovers' final Conference game at Hereford (becoming the world's oldest professional footballer at 52) his marker welcomed him with: "If you touch that fucking ball I'll break your fucking leg."
Thankfully beneath the suntan, the teeth and the on-field cameo straight out of Millionaire Villa there is much substance to Chairman Ryan. The chapter entitled "The Fans' Chairman" is a fascinating insight into how Rovers are run, and the relationship between Ryan and manager Sean O'Driscoll who are so diametrically opposed that ordinarily they would only be thrown together in a sitcom flat-share. This chapter offers great reassurance that at least one football club owner maintains a clear and ethical approach to how the game and the clubs within it should be run.
There is a great story here, but it is harder to get at than it needs to be and Dare to Dream would have benefited from more ruthless editing. Ryan's diary of Rovers' first season back in the Championship accounts for a quarter of the book, but in context serves only as a 100-page tangent. Similarly, the final chapter focuses on Ryan's current business interests but very quickly transcends into the guise of a weekend supplement advertorial for his cosmetic surgery company.
There are inconsistencies in the delivery too. A mention of the well-known Bobby Robson comes with a lengthy list of the man's credentials and achievements, yet a heavy defeat to Crewe is fleetingly said to have "shades of Leyton Orient and Forest!" which will mean little to non-Rovers fans.
The story of John Ryan and Doncaster Rovers has long deserved to be told. It is a compelling tale, and it's of little surprise that the man telling it is Ryan himself. He is not one to take a back seat, and while that has brought him great and deserved success in business and in football, it has unfortunately hampered the way it is put across in print.