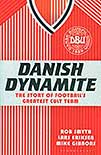 The story of football's greatest cult team
by Rob Smyth, Lars Eriksen and Mike Gibbons
Bloomsbury, £12.99
Reviewed by Jonathan O'Brien
From WSC 328 June 2014
If you wanted entertaining football from a European national side in the mid-1980s, the pickings on offer were slim. Spain were a shower of hackers, Germany ruthless but uninspired, Italy suffering a post-1982 hangover, Holland in the doldrums – and England were England. There were only three shows in town: France, the USSR and Denmark.
Michel Hidalgo's marvellous France team chiselled their names down in history by winning the 1984 European Championship, and the USSR lit up Mexico 86 in tremendous style. The Danes were left with nothing after a pair of traumatic defeats by Spain in Lyon and Querétaro. The memory of the sizzling football remains, though, and this reappraisal of them is long overdue. Despite its tendency to write subsequent Denmark teams out of history, Danish Dynamite, which grew out of a 2009 article on the Guardian's website, is largely terrific.
With the exceptions of Frank Arnesen and Jan Molby, all the players are interviewed, as is manager Sepp Piontek, now aged 74 and still full of combative vigour. A ruthless hatchet-man as a player in the Bundesliga, Piontek brought a dash of cold-water efficiency to Danish football's free-spirit mentality and coaxed results out of them that would have seemed utterly implausible just five or six years previously. The team was full of offbeat, off-kilter characters: Soren Lerby, so ferociously competitive that Morten Olsen dubbed him Dr Jekyll and Mr Hyde; Preben Elkjaer, the party animal who never drank beer; Ole Qvist, the goalkeeper who played out of his skin at Euro 84 and then went straight back to his job as a motorcycle police officer in Copenhagen; Ivan Nielsen, the easygoing centre-back who is now a plumber and conducted his interview while sitting on an upturned bucket in his garage.
And the football was never less than blinding. As is mentioned here, Denmark played as if it was always the 85th minute and they were a goal down. Watch one of their games on DVD today – the 5-0 thrashing of Yugoslavia at Euro 84, for example, or the extraordinarily action-packed 4-2 victory over the USSR in Copenhagen a year later – and the footage looks like an animated cartoon on fast-forward, with players flooding into the midfield from all areas of the pitch, joining up with the attack in their droves, and scoring goals from the craziest of angles. The party was too good to last.
Just ten days after dismembering Uruguay at the 1986 World Cup, the Danes exited the competition in shattering, and somehow tragic, fashion when a solid but unexceptional Spain happily picked them off on the counter-attack and beat them 5-1, scarcely credibly. And that's more or less where the story ends – Euro 88, where Piontek's ageing team lost all three matches, is barely mentioned, and the subsequent glory of Euro 92 is covered in just a couple of pages. This comes across as laziness and a bad call, but in all other respects Danish Dynamite is a wonderful read and an exhilarating nostalgia trip.