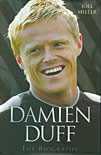 The Biography
by Joel Miller
John Blake, £17.99
Reviewed by Paul Doyle
From WSC 247 September 2007
Good things about this book include: the high standard of spelling; functionally correct grammar; and the fact that if you dropped it from a great height on to the head of the person who recommended it to you, it would do serious damage. Beyond that, the highest praise you could give it is that it reads like an extended Wikipedia entry, a broadly efficient collation of information already in the public domain. If you think that makes it worth almost 18 of your English pounds, then you presumably pay for WSC with wheelbarrows of gold. Well done.
Deprived of any direct access to his subject, the author has, in fairness, trawled fairly comprehensively through the British and Irish media for relevant and, in the interests of padding, irrelevant data. And he does return some amusing curios to our attention, such as that when Duff was still a promising fish in the small Irish pond, Liverpool decided against bringing him to England because "they didn't think he had much between the ears" (this from a club that have been home to a succession of players nicknamed Trigger). A little later, his dad wanted him to sign for Huddersfield because he was "very impressed by Neil Warnock", but Duff eventually plumped for Blackburn because he found Kenny Dalglish "funny".
From then on, however, almost everything we're told about the "dazzling Irish Rover" is familiar to even casual football fans, including the achingly cliched narration. It takes 105 pages before the author effectively acknowledges the central failing of his ­oeuvre when, after recounting yet another banal quote from the never loquacious Duff, he confesses: "Whether that was actually the case or just the words of a man well versed in traditional football-speak we can't be sure." This can be translated as: "This biography may be full of glib bullshit, but hey, what's a hack to do?"
If you want to count the number of times a young Duff was hailed as the new George Best, the next Chris Waddle or the Irish Brian Laudrup, then this book caters to your fetish. Similarly, if you lust after chronologically ordered post-match quotes either praising the player's performance or suggesting he's capable of even better, then your strange satisfaction is guaranteed.
But if you seek more insight into what efforts Duff and his various employers have made to overcome his oddly persistent hamstring problems; or how he found working with intriguing characters such as Dalglish, Graeme Souness, Claudio Ranieri and José Mourinho; or what he made of Ireland's implosion in Saipan (apart from "it wasn't nice") and the subsequent departure of Mick McCarthy; or how pleased he is that everyone, including his biographer, glosses over the fact that he dived despicably to win that penalty against Spain in 2002; or why, despite being in the middle of the tournament of his life, he hid during the subsequent shootout; or why he appeared to shrivel up under Brian Kerr despite claiming to "love him to bits"; or why, come to think of it, his once scorching talent appears to be fizzling out sadly; then this isn't the book for you.
Now, if it comes into your possession, don't drop it on me.