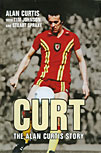 The Alan Curtis Story
by Alan Curtis, with Tim Johnson and Stuart Sprake
Mainstream, £17.99
Reviewed by Paul Ashley-Jones
From WSC 278 April 2010
Having grown up watching Alan Curtis from the terraces of the North Bank at Vetch Field, I expected to enjoy this book and wasn't disappointed. Curtis had three separate spells with Swansea as well as playing for Leeds, Southampton and Cardiff City (where he was voted Player of the Year despite his background) while winning 35 caps for Wales.
He played a key role in Swansea's rise through the divisions under John Toshack in the late 1970s and was around for some of the worst times too. Indeed, his passionate rallying cry to the players before the last game of the 2002-03 season against Hull City (which saw Swansea win to avoid dropping out of the Football League altogether) has gone down in local folklore. In typical Curtis style he downplays an incident that others would probably have dedicated a whole chapter to.
As Curtis is still involved with Swansea and also works for the FAW with the Under-21s squad, it would probably have been difficult for him to write too candid an account without threatening his current livelihood. He therefore spends perhaps a little too much of the book paying tribute to family, friends and colleagues who have supported and influenced his career. Those he did not get on with, or whom he felt treated him poorly (Chris Nicholl at Southampton and Kenny Jackett at Swansea), simply don't receive the praise that others do.
Still he gives some interesting insights into 1970s football in Wales, such as former team-mate Tommy Smith's views on immigration, which go in some way towards explaining his infamous tackle/foul/assault on Ossie Ardiles in the opening seconds of a Swansea v Spurs League Cup tie in 1978. There are also some amusing anecdotes regarding the shoddy way he and the Welsh squad were treated by their own association, the best example being at a 1976 match against England arranged to celebrate the FAW centenary. After the game the players queued up to be presented with a commemoration of the match and received plastic coated tea coasters with FAW logo on. They did at least get four each, though.
They say that you should never meet your heroes as they will only disappoint you. Alan Curtis was working for a sports firm supplying kit to my local team when I met him – and he didn't disappoint. Football didn't make him a rich man and he never made more than £500 a week even at the peak of his career. In truth he was too nice to be a salesman. His story doesn't make for compelling reading if you're looking for salacious gossip and forthright opinions. Then again, as an honest book from an honest man it's more deserving of your time than the usual tales of birds, booze and the settling of personal vendettas found in many former player autobiographies.