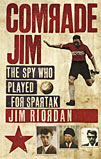 The Spy Who Played for Spartak
by Jim Riordan
4th Estate, £14.99
Reviewed by Tom Davies
From WSC 258 August 2008
Football in the Soviet Union held a lurid fascination for many – by turns menacing, exotic, secretive and awe-­inspiring. So it's something of a surprise that the curious story of the only Englishman to play for a Soviet League club is so little known. Children's author and Russian studies academic Jim Riordan, then a young British Communist Party member, found himself propelled through political connections and his modest prowess with a Sunday morning expat team into a title-chasing Spartak Moscow side for two league games in the early Sixties, and this is his account.
It's a bizarre tale, rendered more so by the seeming banality of how it came about. Riordan had joined the Communist Party after graduating, motivated like many of his generation by the privations of his own ­working-class background and a general revulsion at injustice, his fascination with Soviet politics enhanced by spending his national-service years working in intelligence studying Russian. Subsequently enmeshed in the world of CP politics, Riordan is offered a move to Moscow – "our secular Mecca" – to study at the Higher Party School and finds himself sucked into the sort of privileged orbit that facilitated contact with such as Lev Yashin and Yuri Gagarin, as well as the Cambridge spy ring led by Donald Maclean, Guy Burgess and Kim Philby. Quite a journey for "an oik from Portsmouth, with no credentials apart from a party card".
Riordan's love of football, kindled at Fratton Park, also puts him in contact with the British diplomatic establishment in Moscow, for whose mixed-nationality team he plays. From there he is introduced to Spartak and USSR full-back Gennady Logofet, with whom he strikes up a friendship. Soon afterwards, Logofet and team coach Nikita Simonyan invite Riordan to train with them after watching him play at centre-half for the diplomatic corps team. He then finds himself called up at very short notice for a first-team match after their centre-half is incapacitated by drink; he had already played a game earlier that day, a commendably Stakhanovite workrate. A shaky performance in a 2-2 draw follows, but it's enough to earn another appearance a few weeks later when, despite being unnerved by occasional derision from the 50,000 crowd, he at least appears in a winning side.
Riordan is in Moscow at a time of tumult, the city still traumatised by war and terror. He confronts the system's ups and downs with an admirable willingness to see shades of grey (leading to reprimands by communists both in Britain and the USSR) while remaining loyal to broader socialist ideals. His disillusion doesn't manifest itself in the sort of pompous rightward gallop to which some ex-lefties are prone, but in a sadder, more humane criticism – he leaves Moscow under a cloud after writing an unpalatable article for the British Soviet Friendship Journal. As poignant as anything here are his attempts to track down former team-mates and comrades in old age, most of whom are almost completely unwilling to discuss past times.
The narrative sometimes treads uneasily between being a book about football for politicos and one about politics for football fans – neither really need the introduction's oft-rehashed quotes from Camus and Shankly – with the result that it's not really a volume for experts in either. But interest in Russian football has been lifted by the ­oligarch-funded stars of Euro 2008 and the country's confusing politics are once again under the microscope. This is a timely and engaging look back on a past that really is a foreign country.
Comments (1)
Comment by Sash 2008-08-23 23:21:10