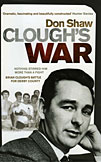 by Don Shaw
Ebury Press, £16.99
Reviewed by Peter Gutteridge
From WSC 268 June 2009
The story of Brian Clough's triumphs at Derby County and his fractious relationship with chairman Sam Longson has been told many times. Now we have another film and book, The Damned United, in which Clough's supposed inner demons are explored. It is therefore a huge challenge for Don Shaw to produce a fresh look at this key period of Derby's history – but he succeeds.
Shaw is a lifelong Rams fan who was a founder member of the protest movement formed in the aftermath of Clough's departure with the aim of reinstating him and getting rid of Longson. During this time the author had frequent dealings with his principal subject as well as the Derby players and sympathetic directors. He duly provides a wealth of previously untold detail about famous stories, such as how the young Roy McFarland was besieged in his parents' home until he signed for the club and of Clough's charming of Archie Gemmill's sceptical wife by doing the washing up and casually mentioning how their lifestyle would be enhanced by Gemmill's improved pay at Derby.
As Derby rose from Division Two to the European Cup semi-final in four years, Clough's ego and contempt for Longson grew proportionately, if not exponentially. He duly felt justified in seeking to extend his grip on the club. Equally there is no doubt that Derby's greatest period could have lasted a lot longer but for Longson's failure to fully recognise the potential success that the talents of Clough and his assistant Peter Taylor offered. Indeed Longson sometimes laments that instead of having to deal with such egos he'd rather Derby were back in Division Two.
While the momentum of fan protest builds, Shaw learns that working with Clough means having to deal with someone who is inconsistent and impulsive, attributes that hampered the movement's ability to form a coherent strategy. For instance, Clough would often turn up unannounced to meetings hinting at "developments" that he refused to divulge.
Clough later admitted that resigning from Derby was the biggest regret of his life and he was clearly in denial about the basic fact that he was no longer the manager. The supporters are similarly hamstrung by not being able to recognise that the Derby board held the upper hand in its battle with the departed foe. A very ill-advised attempt to use a reserve player as an intermediary to get the first team out on strike leaves Shaw contemplating the threat of legal action and causes him to reassess the whole purpose of the protest. As a Derby fan I can only regret that it was impossible for the board to develop a working relationship with Clough. The protest movement's quest was clearly futile from the outset, so it was perhaps inevitable that the initial anger dissipated into self-delusion.