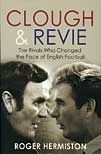 The Rivals Who Changed the Face of English football
by Roger Hermiston
Mainstream, £10.99
Reviewed by Roger Titford
From WSC 293 July 2011
There has been such a veritable swath of titles about these two managers in the last few years that you would imagine a joint honours degree in Cloughology and Revienomics to be possible. Is there space for yet more? Yes, this is a terrific read. Roger Hermiston has an easy and mature style. His research looks meticulous yet is modestly displayed. He is a journalist rather than a writer and it shows in the quality of access he gains and the digging he does.
Hermiston's unique starting point is the Middlesbrough back story. Don Revie and Brian Clough were born a 15-minute walk and eight years apart, and he traces the actual and putative intertwinings of the pair long before the rest of us came to know their managerial rivalry in the late 1960s and 1970s. Revie could have been Clough's inside-forward provider at Boro in 1956 and his manager at Sunderland in 1964. Clough succeeded Revie at Leeds in 1974 and hoped to follow him as England manager in 1977.
But this is not just the story of two talents working in the same professional spaces. This rivalry – it's not just personal, it's positively elemental, Shakespearean even. It's also what gives, in its very different style, David Peace's The Damned United its life-force. As Hermiston demonstrates, Clough and Revie are poles apart. Clough felt he stood for honesty and principle (opponents would suggest the arrogance of the outsider); Revie for warmth and tribalism (enemies might see this as the expediency of the insider). Hermiston quotes the one killer line that gets to the absolute heart of the matter from the extraordinary live TV showdown the day after Leeds sacked Clough.

Revie takes Clough to task for being critical (Clough says honest) about people such as himself – "Norman Hunter, Peter Storey whose records are there for all to see" – and continues: "When you talk about honesty, if honesty is going to destroy the game then you [meaning all of us] are in all kinds of trouble." This is the classic insider's line, the invitation to keep schtum. Read that line again to put it in the context of the all insinuations about The Don. Clough thought Revie was a ref-nobbler. Hermiston quotes fellow journalist Duncan Hamilton in support of that being Clough's belief – while also and always carefully pointing out nothing was ever proved.
Hermiston evokes the cigar-smoking and spirits-drinking of the old north and dredges up poignant details, like the keeper called Esmond Million (really) who was convicted of match-fixing. He brings in the parallels of Richard Nixon and John F Kennedy for Don and Brian (I'd never spotted that) but lets the reader come to his own judgement about the mental wellbeing of Clough in 1973 and 1974, and the split personality of Revie throughout his career.

This is a long, fair-minded and rewarding read but I regretted the narrative ending in 1977 rather than running on to Forest's second European Cup victory in 1980. I would like to have heard what Revie in exile in the Middle East made of Clough in triumph in the East Midlands. If it was a case of the author needing a rest, he deserves it.
Comments (1)
Comment by jonmid 2011-07-14 16:52:47