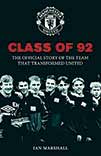 The official story of the team that transformed United
by Ian Marshall
Simon & Schuster £18.99
Reviewed by Joyce Woolridge
From WSC 307 September 2012
"He's only tiny; he's got ginger hair – you'll probably have a bit of a laugh. But he can't half play." Thus Brian Kidd prepared Eric Harrison, Manchester United's celebrated youth team coach, for the less than auspicious arrival of the young Paul Scholes at the Cliff training ground. Scholes's success and longevity is perhaps the most remarkable of all the luminaries of the 1992 FA Youth Cup-winning side, which also included Giggs, Beckham, Neville, Butt… and Robbie Savage.

Scholes's hair colour proved no great problem, but he was tiny, suffering from bronchitis and Osgood Schlatter's disease which gave him bad knees, and had no real pace and strength. Despite his abundant and obvious skills, just one of these disadvantages should have been enough to ensure that he joined the ranks of the 500 or so boys joining Premier League and Football League clubs at the age of 16 who, according to the PFA's Gordon Taylor, are out of the game by the time they are 21.
That he was taken on and made it into the first team is testament to the patience and foresight of Harrison, Kidd, Nobby Stiles and Alex Ferguson, though even they would probably have rejected Lionel Messi for being too small.
Few things are as intoxicating for a football fan than the promise of youth. Last season, stories of the emergence of another brood of Fergie's Fledglings generated the traditional, heady expectations of more "golden apples" among United's support, providing a welcome distraction from the head-splitting absurdities of Glazernomics.
Ian Marshall's account duly begins at Moss Lane, Altrincham this January, wondering, with appropriate caution, whether the current crop can follow in the footsteps of their illustrious predecessors – the Busby Babes and the "Class of 92". Subsequent interesting chapters detail how Stanley Rous inaugurated the Youth Cup in 1952 and how United's youth "system" pre-dated the war and Busby, who became youth's most high-profile promoter.
An official United book for sale in the club megastore is hardly going to be shot through with radical revisionism and searing comment, but nevertheless Marshall handles the material skilfully, interweaving the fortunes of the 17 players who made up the squad with a match-by-match account of the 1992 campaign.
Only four of these players dropped out of professional football without making a senior appearance, a remarkable statistic given the high wastage rate which persists in England and demonstrated by an instructive comparison with Crystal Palace, United's opponents in the final. The ones that got away are inevitably more intriguing, none more so than "local hero" and crowd favourite, Salfordian George Switzer, whose name has become a pub quiz staple.

Concluding chapters take those who survived through to the present, whether to the Treble, global superstardom, down the divisions, into coaching and management or career-ending injuries, revealing a little of the darker side and the many scandalous cruelties of youth football in this country lurking beneath every glittering tale of triumph.