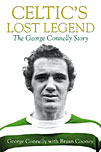 Celtic's Lost Legend
The George Connelly Story
by George Connelly with Bryan Cooney
Black and White, £17.99
Reviewed by Jonathan O'Brien
From WSC 272 October 2009

A Bhoy Called Bertie
The Bertie Auld Story
by Bertie Auld with Alex Gordon
Black and White, £17.99
Reviewed by Jonathan O'Brien
From WSC 272 Oct 2009
It's a truism that long-retired players almost always produce autobiographies far more absorbing than those of their still-playing or recently quit counterparts. Any Celtic fan unfortunate enough to have parted with hard cash for the memoirs of Henrik Larsson, Paul Lambert or Gordon Strachan won't be making the same mistake again in a hurry. Mercifully, these offerings from a pair of late-1960s/early-1970s cult figures are both a cut above the usual dross.
First, there's George Connelly, a Duncan Edwards-ish figure who was good enough and driven enough to score the winner against Don Revie's Leeds in a European Cup semi-final when aged just 21, yet simply tossed his career in the bin five years later, having walked out on Celtic on four previous occasions. Reading between the lines of this fascinating memoir, it seems that Connelly was simply too weak-minded to say no too often: a congenitally shy village boy who hadn't been close to his parents when growing up, he married at a very young age and soon ended up hating his wife's guts, yet stayed with her far too long for the good of either party.
The fact that Connelly was a heavy drinker didn't help, though his own account here occasionally makes it seem as if he played little or no role in the process of several million gallons of alcohol flowing down the red lane. One chapter is given over to the voice of his friend and team-mate Davie Catternach who, when asked if Connelly was popular with the other players, replies, "I would say that everyone respected his ability", with the awkward hand-wringing virtually audible on the printed page. But while we're clearly not getting the full story here, it's a tale every bit as fascinating as it is unfortunate.
Bertie Auld's book is a much cheerier offering, as you might expect from someone who won almost every club medal that could conceivably be on offer to a Scottish player. It's a brisk, damn-the-torpedoes affair where half the dramatis personae are referred to by inane nicknames: Caesar (Billy McNeill), Faither (Ronnie Simpson), Yogi (John Hughes). Connelly, perhaps unsurprisingly, doesn't turn up too often in it.
Of course, it's as partisan as hell. Auld is still good-naturedly embittered about the debatable offside call at Anfield that, he claims, screwed Celtic out of a place in the 1966 Cup-Winners Cup final; he straightfacedly asserts that beating Dunfermline in the Scottish Cup final in 1965 was more important than the title win a year later; and Davie Catternach turns up here too, mentioned in a piece of anoraky point-scoring on page 98 aimed at proving that the sacrosanct Lisbon Lions line-up didn't actually lose at Ibrox four months after the European Cup win.
A great work of literature it ain't ("The French, in typical Gallic fashion, fancied themselves"), but Auld comes across as a spirited old lag who must have had a whale of a time when sifting through the four-decade-old embers. "That guy again!" he exclaims of Rangers defender Kai Johansen when describing one of the several freakish goals scored by the latter in 1960s Old Firm derbies, and you just know that Gordon had to edit a far stronger word than "guy" out of the tape's transcript.