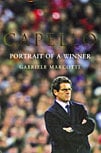 Portait of a Winner
by Gabriele Marcotti
Bantam, £18.99
Reviewed by Matthew Barker
From WSC 263 January 2009
Gabriele Marcotti's profile of Fabio Capello is a brisk (though at 400-plus pages not short) summary of the England coach's career, putting his appointment in charge of the national team in the context of his achievements at club level. After the briefest of glimpses at his childhood and family background we're off and running, rounding-up a quietly distinguished playing career: beginnings with Spal; the big move to Roma under early influence Helenio Herrera; joining Juventus; that azzurri goal at Wembley; and on to Milan. One constant that features in the various anecdotes and reminiscences is of a player old before his time, a bit of a loner, a little too focused, a little too intense. Classic managerial material in, other words.
After his knees finally gave up on him, Capello began a stint in charge of the ­rossoneri's primavera (literally, spring) squad (which included Paolo Maldini and Alessandro Costacurta). Fast-tracked to an interim position in charge of the first team before the arrival of Arrigo Sacchi, Capello developed a relationship with new owner Silvio Berlusconi, staying at the club and eventually replacing Sacchi, though never quite stepping out of his shadow.
Capello was the first real squad manager, using the rotation system to stunning success at Milan (the perfect zenith being the 1994 Champions League final against Barcelona), fine-tuning his style at Real Madrid before teaming up with Franco Baldini at Roma and enjoying further (ultimately tarnished) triumphs at Juve. His awkward, rather stilted personality won him few friends and often infuriated club presidents, but those close to him tell of a warm, cultivated individual happy to talk about non-footballing matters.
Marcotti states from the outset that the book's aim is to concentrate on Capello's professional, rather than private, life. Fair enough (and this, after all, is a man who has managed to keep himself very much to himself, despite the best efforts of the Italian, Spanish and now English media), but it does leave the odd teasing gap. Marcotti touches on Capello's cultural leanings, but rarely delves any further. Italian magazine Guerin Sportivo recently claimed he has an art collection worth £8.4 million, with American abstract scribbler Cy Twombly an apparent favourite. It's a minor grumble and maybe it's just me, but I would like to know a bit more about Capello's arty side. Equally, there's no mention of his widely quoted remarks about the regime of General Franco.
Capello works best when Marcotti guides us through the corridors of power at the Meazza, Bernabéu, Olimpico and delle Alpi, introducing a cast of clashing egos and political animals. He gives a tidy overview of events pre- and post-calciopoli (no mean feat), concluding that Capello could have known something of Luciano Moggi's shady ­manoeuvrings, before setting the scene for his arrival at Soho Square (and, presumably, an updated paperback edition). The passages describing the FA's approaches to the Italian provide an excellent insider's view of modern football's global dealings.
This informative, enjoyable book portrays a manager who knows what he's doing; who has a knack of moulding teams into winners and has the steely resolve to stare down disgruntled Premier League club bosses. More than that, Capello is actually something of a romantic, someone who actively made himself available for the "impossible job" with a rare relish. What could possibly go wrong?