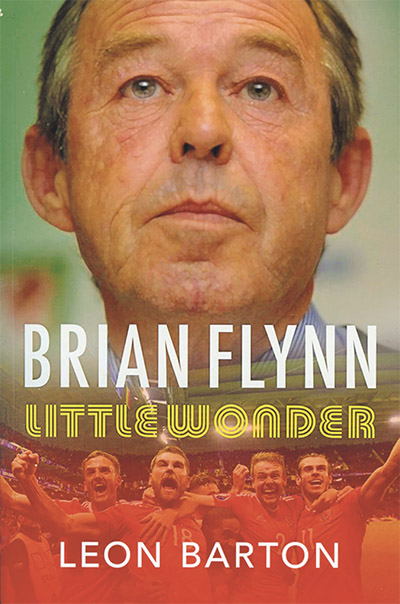 St David's Press, £13.99
Reviewed by Huw Richards
From WSC 378, September 2018
Buy the book
Biography it may be, but this life of Brian Flynn takes its place alongside works by Chris Wathan and Bryn Law among those celebrating and explaining the unprecedented success of Wales at Euro 2016. A book whose many virtues include a strong sense of context takes Flynn back to his roots in Port Talbot's tough Sandfields Estate as a diminutive, combative midfielder with feet so small that his eventual boot sponsors were initially unable to supply him, and leaves one wondering how many of his modern austerity-era equivalents will have memories to parallel his of the local council's Afan Lido sports centre as a "godsend" from which he was "never away".
That a man regularly told that he wasn't big enough enjoyed long spells with Burnley and Leeds, 66 caps and involvement with the unjustly forgotten 1976 Wales squad – who reached the last eight of the Euros in the last tournament before the finals were extended beyond the last four – would merit a biography in itself, and the story is well told.
So too is that of his profound impact on two of Wales' leading clubs – and there might have been a third had Cardiff City not screwed up his registration as a teenager and been denied a second chance by his tough-minded dad, Jim.
Barton, a Wrexham fan, is particularly good on Flynn's 12 years as manager there, wrestling with limited resources and building bright young squads. There is a truth extending beyond any single club when Flynn recalls that "the club didn't have any money, but the chairman was prepared to give me time. As a manager that's priceless". He is a little less sure-footed on Flynn's time at Swansea, making the common error of describing the Supporters' Trust as owners rather than minority partners, but is absolutely right in pointing to him as a key initiator of the club's on-field renaissance.
But it is Wales, and Flynn's remarkable record as coach of their age-group teams, which form this book's core and purpose. Certainly he was fortunate in the talent which came his way, but played a decisive role in identifying and nurturing it – insisting for example that Gareth Bale had wider possibilities, when his club manager Harry Redknapp thought him only a full-back – under his mantra of "attitude, intelligence, ability".
That eight of the 2016 squad had played for Flynn's Under-21s against Sweden seven years earlier shows how great this role was, and also collaterally aids the rehabilitation of John Toshack, who appointed and encouraged him, as an effective Wales manager.
If there is a weakness, it is that Barton does not fully explore the reasons why Wales declined three times to elevate a candidate of such evident credentials to the senior job, or for the outright betrayal of his removal from the age-group post in 2012. As so often, it was Flynn's fate to be underrated and underappreciated, making it all the more welcome that he now has the biography he deserves.