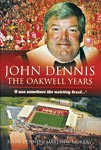 The Oakwell years
by John Dennis and Matthew Murray
Wharncliffe Books, £12.99
Reviewed by Richard Darn
From WSC 304 June 2012
I met John Dennis once, in 1989. He was standing at the Oakwell office door wearing a moth-eaten wool jumper. At first I mistook him for the groundsman. He went on to defend Barnsley's decision to sack manager Allan Clarke, the issue that had resulted in me writing an angry letter to the local paper and subsequently receiving a phonecall from the club. "Come down to the ground and we'll have a chat," they suggested. No words said then or written now in this autobiography by the ex-Barnsley chairman have altered my opinion on that question. Clarke was sacked for being an awkward guy to deal with, rather than for footballing reasons. But the incident was pivotal.
It caused the chairman at the time, Geoff Buckle, to step down. He was replaced by Dennis, a local fruit and veg wholesaler whose father also led the board in the 1970s. He took the top seat backed by other ambitious young directors. During my strange Oakwell encounter, news that Manchester City had sacked Mel Machin filtered through. Machin was soon in the hotseat. Unfortunately, his era served up progressively duller football and I was soon writing to the Barnsley Chronicle again to vent my spleen. Like John Dennis, I was wrong about that one.
Dennis emerges as a likeable man in this book. He was desperate, perhaps overly so, to deliver success to the fans. Had Machin refused the Barnsley job, the directors planned to turn to managerial rookie Martin O'Neill, whose application letter was succinct. If they were looking for an experienced man who had repeatedly failed elsewhere they should bin his letter, he told the board. Perhaps the club should have listened
After a slow start, the book finds its stride. Anecdotes abound and Dennis reveals that he was once offered a bung by an agent, which he refused. Machin was succeeded by Viv Anderson and Danny Wilson – the former quitting after just one season to join Brian Robson at Middlesbrough. After Anderson left, Wilson went on to become Barnsley's most successful boss ever. The book's reflections on Wilson's time will warm the hearts of Barnsley fans. Of more interest is the fall from grace thereafter. Dennis muses on how the club went from a Wembley appearance, in the First Division play-off final in 2000, to administration in just two and a half years. Relegation and the collapse of ITV Digital are cited as factors, but he does not duck the key reason for the collapse: the club made more poor decisions than good ones.
Dennis regrets that the club – once noted for its loyalty to managers – entered the fatal game of hiring and firing. Brief success had whetted appetites and the club became too ambitious and financially stretched. John Hendrie, Dave Bassett, Nigel Spackman and Steve Parkin came and went. Dennis eventually stepped down from the board in 2002. The club has never really recovered.
Relegation this season was averted only due to Portsmouth's points deduction. A club that once played "samba football" is now scrapping for survival. But we should not be harsh on John Dennis. The book is a reminder that he played a crucial role in the club's greatest period. He oversaw the rebuilding of Oakwell into a great arena and helped block predatory speculators fixated on the club's property, rather than its heritage. He remains a diehard Barnsley fan and no one can diminish his achievements – even if he was wrong about Clarke's sacking.