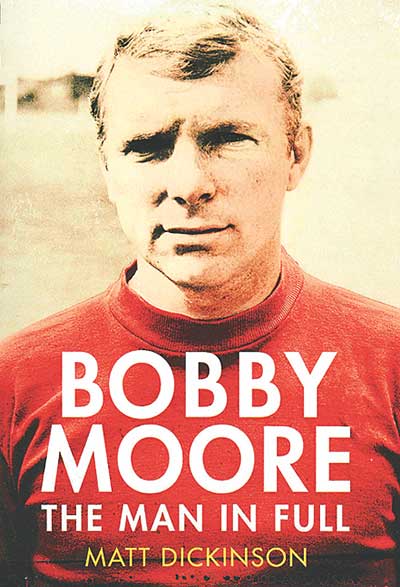 by Matt Dickinson
Yellow Jersey, £20
Reviewed by Mark Segal
From WSC 333 November 2014
When a modern-day footballer steps out of line, you don't need to go far to find a sports writer of a certain vintage bemoaning today's young millionaires and stating with utter certainty that this would not have happened in "Bobby's day".
The Bobby in question is of course late England captain Bobby Moore, whose legend and legacy has ascended to a higher place in the years following his untimely death from cancer in 1993 aged just 51.
According to legend, not only was Moore gifted with fantastic footballing skills but he was also a model professional who knew and understood the responsibilities of being captain of your country. It's these assumptions about Moore which author Matt Dickinson sets out to investigate in this new book. And it's a task he completes in some style.
Employing a straight chronological format, Dickinson guides the reader through Moore's formative years as the shy youngster from Barking breaks into the West Ham first team. The book then centres on the middle years of the 1960s when Moore becomes a triple Wembley winner, first with West Ham in the FA Cup and Cup-Winners Cup and then finally with England in the World Cup final, before detailing his slow decline.
While Moore's exploits on the pitch have been widely documented – except maybe for a bizarre nine-game stint for a small Danish team in 1978 – the strength of the book lies in the way Dickinson has been able to go beyond football and find Moore's real character.
While Moore would often be the one instigating nights out with team-mates he was always more comfortable in the role as an observer rather than a performer. Former colleagues and friends alike describe a man who you thought you knew but actually didn't. His private nature almost acted as a shield against whatever the world might throw at him. This detached nature is perfectly described in the beautifully written chapter about his death, as his second wife Stephanie speaks of the horror on his face as she broke down in tears after being told the disease had spread and there was no cure. Bobby never liked to make a scene.
While all the usual characters from his playing days turn up in the book, Dickinson also uses interviews with some of the journalists who followed Moore's career at a time when players treated journalists as friends who they could confide in. He also speaks to both of Moore's wives and also friends from outside football which all helps to provide a more rounded description of a difficult man to categorise.
The way he was ignored by football after his retirement is also discussed with the author believing a mixture of class snobbery, Moore's lack of self-promotion and links with some of the East End's more notorious characters all contributed to a managerial career which amounted to short spells at Oxford City and Southend.
Sadly, friends describe how as he entered his 50s Moore was finally beginning to come out of his shell and open up a bit more. Unfortunately, this new and relaxed Bobby was not given a chance to flourish. The passages about his final days make for difficult reading.
As a West Ham fan growing up just a few miles from where Bobby Moore was born, I was always going to have an interest in this book. Dickinson's achievement has been to honour the memory of Moore while also allowing us to understand that he was far from perfect.