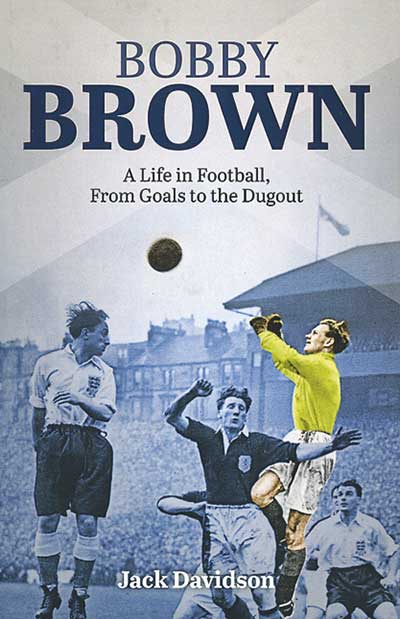 Pitch Publishing, £18.99
Reviewed by Alex Anderson
From WSC 370, December 2017
Buy the book
It's 1944. Bobby Brown is pilot and sailor; footballer, cricketer, physical training instructor to the troops and amateur athlete capable of equalling the Scottish 100-yards record. His first international call-up arrives via a telegram hand-delivered by a beautiful uniformed Wren while he reclines atop a Devonshire haystack. He marries the Wren.
This sort of Ealing Studios idyll contributed to Rangers' liquidation; the desperation to recreate everything embodied by the club's most dashing goalkeeper, the last surviving member of the first domestic Treble-winners (1948-49), and the man our grandparents cited when expecting Ibrox to produce not just dominance, but glamour bordering on vanity. An explanation is offered here for Brown's most famous trait – wearing new laces in every game – but it's fooling no one. The cover art says it all, his coiffured blond hair lending the yellow goalie's jersey a golden hue in a monochrome world.
Brown still occasionally takes the pitch for Rangers' half-time tombola. Aged 94, supremely dapper, he looks every inch the last Queen's Park player and amateur to be capped for Scotland. But he also laid the managerial groundwork for arguably St Johnstone's greatest side, was his nation's first full-time manager – the least-heralded component of the 1967 defeat of world champions England – and, for six post-war years, was the last line of Rangers' legendary "Iron Curtain" defence.
What he can't do is misery memoir. What's war and rationing, after all, when you're playing schools football on a Saturday morning then facing Celtic at Parkhead that afternoon. With the primary source material Brown's personal scrapbooks, Jack Davidson should really be ghosting an autobiography. But life-long church-goer Brown only does polished anecdotes and name-dropping – any soul-searching will remain private. So what we get is souvenirs and newspaper cuttings in prose form, sprinkled with benign interviews and footnote material shoehorned into the main text. Biography, you suspect, is employed to put distance between the subject and lines such as "[Brown] cut a debonair figure… had a charming personality and was intelligent and articulate".
However, the old-school reserve on deeper matters does create unintentional poignancy. A Rangers friendly with Benfica is on the very ground their rivals would win the European Cup. There's no acknowledgement of the irony in locals nicknaming the visitors "Super Tigers", 19 years before Celtic's Lisbon Lions instigated an arguably fatal obsession at Ibrox.
During the war he plays brilliantly for the Navy against the Army at Portman Road, watched by the First Lord of the Admiralty, a Chelsea director, who arranges for Brown to remain in England to guest at Stamford Bridge. Instead of discussing his life being saved, Brown only recounts his base resuming a "9-to-5 routine" – because everyone else was in Normandy.
In Brown's day, Rangers v Hibs clashes involved "Famous Fives", Scottish supremacy and six-figure crowds rather than riots and second-tier stasis. The subtext here is as healthy as "Boy" Brown himself: the world is no longer monochrome but dirty laces remain the only thing worth hating.