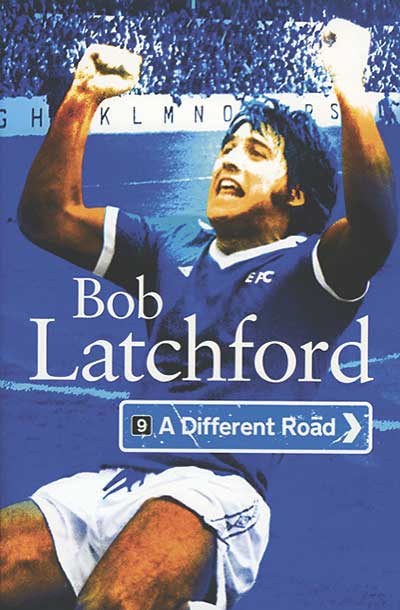 by Bob Latchford
deCoubertin Books, £20
Reviewed by Mark O'Brien
From WSC 348 February 2016
Perhaps to its detriment, but thoroughly in keeping with its subject, Bob Latchford's thoughtful, detailed autobiography shies away from drama and sensationalism and tells the story of a modest, unassuming Birmingham boy who became the most expensive player in British football.
One of three brothers who all played professionally, Bob was a powerful centre-forward for his hometown club, Birmingham City, and then Everton and Swansea City, as well as making 12 appearances for England. His move from St Andrew's to Goodison Park was for a record £350,000 transfer fee, but although Latchford scored goals everywhere he played his career was marked by missed opportunities and a succession of crucial games that turned on moments of terrible luck.
Indeed, his only silverware came late in his career in the Welsh Cup, and the most notable highlight of his 11 years in the top flight came not with a medal but a cash prize from the Daily Express for scoring 30 league goals in the 1977-78 season. Typically, even that memory is bitter-sweet when his magnanimous sharing of the £10,000 with the rest of the squad results in him being plagued by the taxman.
That goalscoring campaign provides the most dramatic portion of the tale, and you can't help but root for Latchford as, despite the best efforts of his team-mates, he struggles to score the second he needs as the goals rain in against Chelsea at Goodison Park on the final day of the season.
In the 1970s Everton were outstripped by their neighbours and Latchford, who famously never scored in a derby game, is almost seen as emblematic of the era. He seems fairly philosophical though and remembers his time in the game fondly, even when recalling infamous matches such as the FA Cup semi-final of 1977 against Liverpool at Maine Road, otherwise known as the "Clive Thomas game" for the referee's bizarre decision to disallow what would have been the winning goal by 
Bryan Hamilton.
His tales of being a young, man-sized prodigy at Birmingham are amusing and enlightening as to how tough you had to be to make it in the game. Coventry's monstrous George Curtis sends him flying through the air in one reserve game, while his most frightening encounter was with team-mate Bobby Thomson, who after one overhit pass tells the callow Latchford: "If you ever do that to me again I'll break your fucking legs." Luckily he also played with some more supportive players than Thomson, and speaks with great affection of teaming up with the likes of Trevor Francis, Bob Hatton, Dave Thomas and Martin Dobson.
When discussing the tail-end of his career, when he roamed as far afield as NAC Breda and Merthyr Tydfil, Latchford manages to see the positives and realises he's lucky to be a footballer, particularly enjoying the change of playing culture in the Eerste Divisie. Indeed, it's only a season at Coventry City under manager Bobby Gould that really seems to get Big Bob slightly disillusioned.
He also talks touchingly about the personal tragedy he faced when his first wife was diagnosed with cancer, and about finding happiness again and rebuilding his life in Germany where he now lives. A Different Road is an apt title then for a book that avoids mudslinging and controversy and instead provides a meticulous and intelligent document of the real life of a professional footballer in the 1970s.