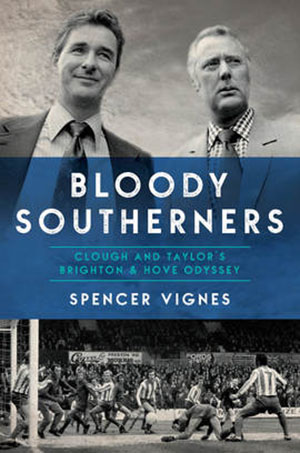 Biteback, £12.99
Reviewed by Jem Stone
From WSC 383, February 2019
Buy the book
It's late on a Friday evening in a hotel in Lewes in November 1973. A team of footballers have been kept waiting for two hours before the most famous manager in the country, on day one of his new job, finally arrives. He walks in, immediately picks out utility player John "Shirley" Templeman and starts shouting at him, insisting he gets his fashionable collar-length hair cut. A few minutes later, the night before their first match, he asks the surprised group: "Anyone want a drink?"
Forty-five years ago this month, Brighton & Hove Albion were facing relegation into the bottom tier of English football. Crowds had dwindled to just over 5,000, and an ambitious and rich young chairman, Mike Bamber, had just sacked his manager. Most fans scoffed when the Evening Argus sports editor speculated a few days beforehand: "Could the club afford Brian you know who?" He was appointed five days later. Earlier that year Brian Clough had been watching League champions Derby County in the semi-finals of the European Cup against Juventus. Yet here he was in a Sussex hotel getting ready for a Division Three home game against York City. The equivalent of a Pep Guardiola or a Zinedine Zidane turning up at Fleetwood or Scunthorpe today.
Spencer Vignes himself rightly poses the most obvious question in his introduction. Why do we really need another book about Clough? But the greatest football story ever told always bears retelling, even when it's merely a footnote. And those eight crazy months that Clough spent on the south coast finally get the scrutiny they deserve. Clough spent a fortune on new signings and crashed out of the FA Cup to non-Leaguers, yet it's remembered most for him sitting alongside his then seven-year-old son Nigel, explaining how Albion lost 8-2 at home to Bristol Rovers in front of Brian Moore and the Big Match cameras.
Vignes captures the story in great depth and there are new revealing interviews with surviving players, staff and journalists. It doesn't shy away from the darker sides of Clough; his bullying ("he was a fucking headcase"), his alcoholism ("he always smelled of drink") and his vanity (going AWOL on a trip to Tehran to discuss managing the Iran national side, missing games to see the Ali v Frazier fight).
It's also of course about long-time partner Peter Taylor, who managed Brighton alone for two seasons when Clough left him behind for the 44 days at Leeds, and is frank about their already fractious relationship; the fights over money, his scouting ("the players you're saddling me with down here can't fucking play at all"), their eventual reconciliation at Nottingham Forest.
As for Brighton, on the pitch Clough left them as he found them, struggling in Division Three. But it was off the pitch where he had a bigger impact, generating media interest with ease that sold tickets to a new generation of young fans – a mid-1970s bulge that, 25 years later, were there in abundance campaigning to save the club, demand a new stadium and lay the foundations for their current Premier League success. Bloody southerners, the lot of them, and still all fondly remembering Brian Clough, Peter Taylor, the underrated Mike Bamber and where it all started.