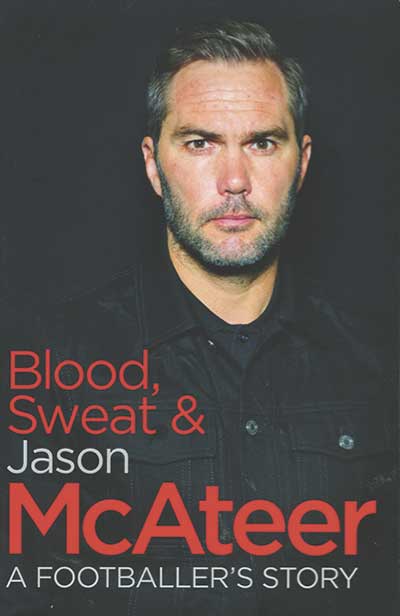 by Jason McAteer
Hachette Books, £16.99
Reviewed by Paul Rees
From WSC 363, May 2017
Buy the book
That wretched title says it all. Aiming at gravitas, but sunk by a rotten pun. So in much the same way it went for Jason McAteer's football career. As a young box-to-box midfielder fizzing with energy at Bolton in the early 1990s, he appeared ready-made for the nascent Premier League era.
A £4.5 million transfer to his boyhood club Liverpool in 1995 was supposed to be the making of him, but injuries and loss of form meant his initial promise went somewhat unfulfilled. Shipped out of Anfield just four years later, his spells at Blackburn, Sunderland and at last Tranmere were exercises in diminishing returns.
Along the way McAteer represented the Republic of Ireland at two World Cups and won 52 caps for his adopted country, though on the international stage he also flickered like a faulty lightbulb.
Unusually, McAteer seems to have worked without the aid of a ghost writer, though in tone and most other regards this is the typical footballer's account. For the bulk of these 402 pages McAteer charts his ups and downs in a breezy, unburdened manner befitting a man nicknamed Trigger by his team-mates after the vacant Only Fools And Horses character.
Born on Merseyside into a family of boxers, the so-called "fighting McAteers", he makes a decent fist of covering his more scenic route to the professional game via fleeting stints in the US and with non-League Marine.
His manager at Bolton, the unbending but insightful Bruce Rioch, is the book's best-drawn and as such most captivating character. McAteer recalls Rioch being so appalled that his young charge had bought a flash sports car with his first big pay cheque that he made him give it back. That was not yet 25 years ago, but Rioch's iron-fist rule seems now from a vanished age of the game. Likewise, McAteer's constant refrain of boozy sessions with "the boys" and which he doesn't trouble to link to his dwindling powers on the pitch.
Rioch aside, McAteer renders his other managers in shades of black or white and dependant on the degrees to which they tolerated him. With Ireland, he viewed Jack Charlton and then Mick McCarthy as father figures. At Liverpool and Blackburn respectively, Gérard Houllier and Graeme Souness are portrayed so villainously they may as well be twirling extravagant moustaches.
Team-mates come and go without leaving much of an impression, save that is for Roy Keane with Ireland, a glowering, menacing presence and at the centre of one of the book's two great dramas when he stormed out of the 2002 World Cup.
The other is buried away in the final pages, when McAteer broaches the subject of the near-suicidal depression he sunk into once his playing days were over. Here, all too briefly, we meet a flesh-and-blood human being. It took courage and self-awareness for McAteer to fight back from this brink. Had he also had the guts to make that battle the crux of his story, this would have been a far more rewarding book.