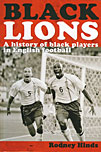 A history of black players in English football
by Rodney Hinds
Sports Books, £16.99
Reviewed by Matthew Brown
From WSC 245 July 2007
Rodney Hinds begins Black Lions, his account of the emergence of black footballers in England, by claiming that "in less than 25 years the black footballer has turned from freak show into a respected member of the football fraternity".
Hinds tells the individual stories of key figures, "pioneers" as he calls them, who broke barriers, set precedents, endured the hate and harassment of fans and fellow professionals alike, and became icons for the black community. In doing so, he charts the rise and decline of racism in English football, a tale of partial progress that, he rightly points out, is far from complete.
Among the litany of "firsts", we learn about Arthur Wharton, the first black professional, back in 1886; Albert Johanneson, the first to play in an FA Cup final, in 1965; Viv Anderson, the first to play for England, in 1978; Paul Ince, the first to captain England; Garth Crooks, the first black chairman of the Professional Footballers' Association; and Hope Powell, the first black England manager (albeit of the women's team).
Others featured include Andrew Watson, who won three Scotland caps in the early 1880s; Jack Leslie and John Parris, from between the wars; West Brom's famous "three degrees", Cyrille Regis, Brendon Batson and Laurie Cunningham; the arrogant and utterly unlikeable John Fashanu (who claims he was once the best player in the country); and Ian Wright, "without question the most influential player of his generation".
As such, Hinds' account is, partly, a long overdue update of Brian Woolnough's 1983 book Black Magic: England's black footballers and a welcome addition to Ellis Cashmore's seminal Black Sportsmen, from 1981, and individual biographies such as Out of his Skin, Dave Hill's brilliant 1989 book on Barnes. But this is much more than a series of pen-portraits. Hinds, as you would expect from the sports editor of the Voice, highlights the battles these players went through to win respect and overcome stereotypes, often wrestling with their own questions of personal identity and national loyalty. In doing so he shines a light on the role they've played in changing football and, to some degree, changing society too. For all that, the author should be applauded, loudly.
There are a few gripes, however. The text is occasionally prone to cliche, while Hinds' preference for quoting his subjects at length could have been curbed to allow space for a bit more commentary. I could have done with more social context, too, to illuminate the players' tales with background on contemporary race relations.
More importantly, perhaps, Hinds' obvious reverence for his subjects and their achievements means he shies away from criticism, even when it's justified regardless of their race. John Fashanu, for example, regurgitates all the old, tired stereotypes about black players being naturally faster, fitter and more skilful than whites and Hinds offers little comment, even though elsewhere he explicitly exposes such notions as nonsense.
Similarly – and this may be almost inevitable in a book about "black footballers" – there is a tendency to relate everything about these players' lives and careers to their race even where that might not be relevant, as with Rio Ferdinand's infamous missed drugs test.
Those points aside, however, this is a valuable bit of football history ending with Hinds' uplifting (if slightly exaggerated) assertion that "the stereotypes that sullied black players have been blown away", that "it is no longer simply a matter of colour"..