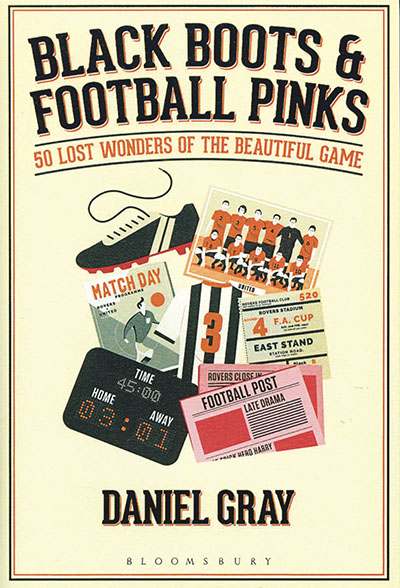 by Daniel Gray
Bloomsbury Sport, £9.99
Reviewed by David Stubbs
From WSC 380, November 2018
Buy the book
Daniel Gray attended his first football match 30 years ago. That might seem an age but to a certain portion of this magazine's readership, it makes him a mere whippersnapper – 1988? Why, the game had already gone to the various dogs of plastic pitches, garish sponsorship deals and hipster trendification, they might cry out. Yet as its title attests, Gray's book speaks to those who, like myself, attended their first game in the very early 1970s and still earlier.
A compendium of 50 short essays, Black Boots And Football Pinks is an affectionate, tongue-not-quite-in-cheek lamentation for all that's been lost from the game for the sake of modernisation and corporatisation – the provincial oddities and innocent idiosyncrasies about football that have been gradually planed away over the years in the name of Progress. These include, among others, Goalkeepers In Trousers And Hats, Ceefax And Teletext, Provincial Businessman Owners and Huts On Stand Roofs. With the words "first they came for the green jerseys", he encapsulates this creeping, miniature tragedy of modern times.
Gray is particularly good at expressing a wistful turn of phrase for what has gone – PA announcements "as if someone was whispering to you through a gas mask", or, in the Paper Tickets essay, describing rustling through his private collection of these antique items as giving "the misty thrill of rustling leaves". In a mere list of erstwhile local shirt manufacturers – Spall, Ellgreen, Matchwinner, Influence, Ribero, Frontrunner – he brings out in what was once considered mundane to the point of ignorable, Proustian scents of a lost Albion of yore.
Some readers might be puzzled that Gray doesn't cite specific examples of, say, ex-players who took up dreary civilian jobs after retirement (only the lucky ones got to run a pub, it seems), or of big man/little man upfront combinations. But this is shrewd on his part. By filling in the archetypes rather than resorting to examples, he allows readers to interpose their own memories rather than merely list all-too-common historical instances. In his celebration of the mass brawl, it would be too easy to grab for Francis Lee v Norman Hunter but that would be to overshadow dozens, hundreds, of other such examples that exist in footballing folk memory rather than the Match of the Day archives.
Some of the aspects of the game he lists aren't actually extinct – caretaker managers and clocks at football stadiums, for example. Most of what he lovingly recalls is, however, and hits home in its empathetic acuity. No one to my knowledge has ever put pen to paper to describe the burning humiliation of being put to bed while an all-day game is still raging in the street outside, played by children with more indulgent parents. The football pinks, those newspapers which appeared with extraordinary alacrity after Saturday afternoon games, are properly commemorated (a far more breathtaking technological feat than the internet) while his description of black boots as signifying a lost solidarity is seriously spot on. Slight yet robust like a winger of the old school, this book jinks, charms and scores.