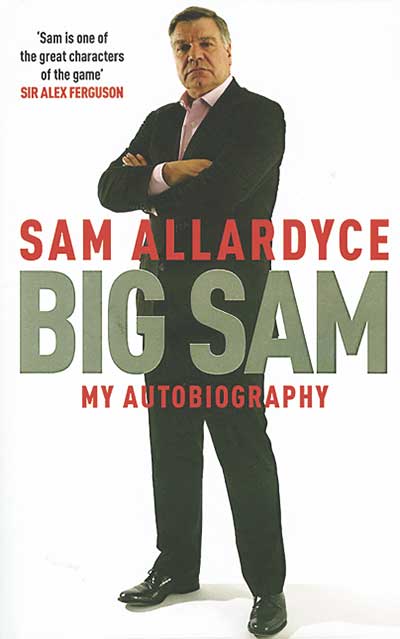 My autobiography
by Sam Allardyce
Headline, £20
Reviewed by Jon Callow
From WSC 347 January 2016
As a Bolton supporter, I have a fairly uneasy relationship with Sam Allardyce. Without question, he brought my club some of the greatest days in our history, and took us to places I could never have imagined when I was watching him plod through his second spell as a player at Burnden Park in the mid-1980s. Still, there's something about him I just don't like.
Despite swapping his first spell at Bolton for a journeyman career driven more by money than on-field ambition, Allardyce tends to attribute his lack of success as a player to bad luck and the foibles of others. More than a couple of times, he talks about the difference between arrogance and self-belief, though you can't help but think his grasp of semantics comes from the dictionary rather than experience.
Allardyce has enjoyed far greater success as a manager than he did as a player. Back at Bolton for a third time, he brought in top-class talent from around the world, establishing the Wanderers in the upper reaches of the Premier League before taking them into Europe for the first time in their history. Unsurprisingly, this is the period of his career about which he is most effusive, though he has surprisingly little to say about what is still the only European campaign of his career.
The good times don't last, of course, and while most of Allardyce's chairmen get a bit of stick, Bolton's Phil Gartside comes in for plenty. However, it seems unlikely he was single-handedly responsible for Allardyce's failure to get the England job and, after one appearance in the last-32 of the UEFA Cup, he could hardly be blamed for a reluctance to spend the money Allardyce insists would have made Bolton a Champions League side – an unlikely ambition that was surely more about ego than any long-term benefit to the club.
After leaving Bolton, Big Sam's bad luck starts again. This time round, though, it's difficult not to have a bit more sympathy. Appointments at Newcastle and Blackburn were swiftly followed by changes in ownership and premature dismissal, while the mythical "West Ham way" was never likely to be a good fit, however much relative success he brought to east London.
Given Allardyce's longevity in the game, you could be forgiven for expecting more anecdotes or insight. There's a cracking story about Ian Marshall strapping a heart monitor to his dog, and some misty-eyed eulogies to some of his keystone players, but he misses an opportunity to make a proper case against the tiresome long-ball accusations, and there's barely more than a cursory mention for the ground breaking scientific methods that gave his Bolton side an edge over Premier League rivals. The BBC's "bung" scandal of 2006 gets a chapter to itself, but it's as much of a non-story as the original Panorama broadcast.
So what next for Big Sam? Well, given that he opens his book with a detailed explanation of why the Sunderland job isn't for him, it's possible even he has no idea. If rumours are to be believed, there might even be unfinished business in Bolton, a place for which he clearly holds great affection. For the time being, though, his story reads much like his career to date, with plenty of ups and downs and a good deal of unfulfilled potential.