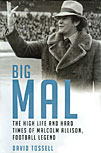 The Hard Life and High Times of Malcolm Allison
by David Tossell
Mainstream, £16.99
Reviewed by Harry Pearson
From WSC 262 December 2008
I once met Malcolm Allison in a pub in County Durham. The thing that struck me about Big Mal was that he was really quite small. Admittedly he was by that stage an elderly man, but the fact is that in football "bigness" has always been about more than mere physical stature.
It emerges during the course of David Tossell's excellent, thoughtful biography that Big Mal, with his cigars, his hats, his loud mouth, his Dom Perignon and his dolly birds, was to some extent a creation, a boorish Seventies Mr Hyde to Malcolm Allison's cerebral Dr Jekyll. How the brash Big Mal came to overpower the questing, insightful young coach who dreamt of sparking an English football revolution, with the wasted promise that resulted, is one of the author's central themes. Though Tossell is never mawkish, and Big Mal rarely remorseful, the book is overhung with regret. Allison, after all, is a man who won his final trophy in England when he had barely turned 40 and then watched as Big Mal, the personality made famous on the ITV football panel, gradually eroded the reputation for innovation and brilliance he had built at Plymouth and Manchester City over two downwardly spiralling decades. They were years characterised by lavish spending – on everything from leather coats to Steve Daley – that would destroy his professional standing and his financial security with equal grim finality.
Despite the trauma of having his playing career cut short by TB, Allison's early years are full of promise. Tossell captures the breathless excitement of young British players awakened to a brave new world by Ferenc Puskas's Hungary – a team that were to football what Elvis would be to popular music. The youthful Allison, whether he's talking tactics in Cassetari's Cafe with Frank O'Farrell, John Bond and Noel Cantwell, coaching Cambridge University, or introducing the sweeper system to Bath City, is the very epitome of an earnest young radical. He is brimming over with ideas. He wants the players to eat properly, to attain high fitness levels, to switch formations at the click of his fingers. He is fascinated by continental methods, willing to embrace techniques from the coaches of other sports. He brings all his thoughts together in a cerebral, serious book, Soccer for Thinkers, which is hailed as visionary. Bill Shankly comes to seek his opinion. The sky, it appears, is the limit.
Then, after the success at Maine Road, came the 1970 World Cup and a seat behind a desk in ITV's studios next to Derek Dougan, Paddy Crerand and Bob McNab. "Having won four major trophies in three years, Allison did not win a single thing in English football after the birth of Big Mal," Tossell writes. "It seems to be more than coincidence."
In many ways Allison's career mimics that of Brian Clough. Clough's playing days ended suddenly, too. He became famous as a coach and then as an outspoken TV personality, and, like Allison, had a problematic relationship with alcohol. The difference was that after Leeds United Clough consciously stepped out of the limelight and went back to focus on football. Big Mal never did. A fly-on-the-wall documentary team even captured his departure from Maine Road after his disastrous second spell at City.
From Cup-Winners Cup triumph to a Teesside bed-sit via Christine Keeler and Peter Swales, however melancholy it is quite a story and Tossell tells it well from beginning to sad end.