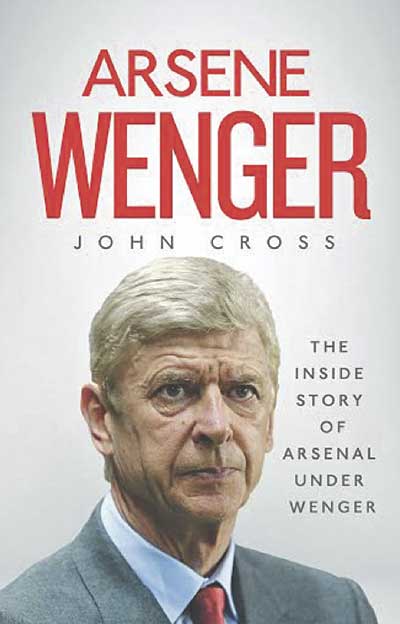 by John Cross
Simon & Schuster, £20
Reviewed by David Stubbs
From WSC 346 December 2015
Supporters of one of the Big Four Or Five teams each have different ideas why their club, overbearingly large as it might seem, actually has some core value. For Arsenal, there was once a sense of shame even among their own fans that they were one-nil blaggers who added little to the overall value of the game. That has turned round completely under Arsène Wenger.
Although, as many interviewed by John Cross in this latest biography testify, he is perhaps an even worse loser than Alex Ferguson, Wenger holds fast to what is vaguely described as his "philosophy", which has traditionally consisted of valuing attack over defence, maintaining aesthetic values rather than grinding out victories, imposing your own style of play rather than merely reacting to your opponents.
This is a source of pride to Arsenal fans but also, increasingly, exasperation, one only partly stemmed by the recent two trophies and a softening of said philosophy. His baffling reluctance to spend available funds has also led to some stormy AGMs, with fans suspicious at the amounts they must today shell out to watch their fitfully aesthetic but too often brittle also-rans.
Mirror journalist Cross is not to able to answer the question of whether Arsenal's relative lack of spending is down to Wenger himself or the club, who have become complacently happy with their cash cow. From the earliest pages, we know from Cross's admiring tone towards Wenger not to expect any scathing, incisive critiques of his subject; he is far too valuable a contact in the author's day job.
He begins with an account of how he visited Pope Francis rather than attend to transfer deadline day, in terms inviting us to marvel at the manager's spirituality and indifference to the mammon of the modern game. The text is similarly lavished with borderline sycophantic tributes to Wenger's intellect, erudition and integrity, lest this sometimes thin-skinned man take the slightest offence.
The book, however, does yield some intriguing facets of his time at Arsenal, where he arrived in 1996 to bewilderment from its core of bibulous, hard-bitten professionals, whose careers and habits he turned upside down, generally for their own good. Cross is decent on Wenger's golden years, and details of the new regimen he instilled, drawing on interviews with ex-players such as John Hartson and Nigel Winterburn.
For a man whose hobby as an escape from watching football is generally assumed to be watching football, Cross reveals one or two fun details about the private Wenger; his interest in politics, and his belief that both communism and capitalism are failed systems; his love and aptitude for dancing, which would probably see him progress a long way on a future series of Strictly, for example. He also reveals less palatable aspects of Wenger, such as his occasionally short way with staff, and his snubbing of Gaël Clichy, or examples of his loss of temper with players, such as the time Nicklas Bendtner was taking the piss out of X Factor: "You think there is something funny about losing?" He also reveals how close Arsenal came to not being able to pay their wage bill during a cash flow crisis in 2004.
While Cross's prose is not exactly silvery, this is about as revealing an account of Wenger's career as we're likely to get in his lifetime.