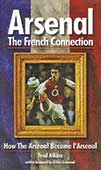 How the Arsenal became l'Arsenal
by Fred Atkins
GCR Books, £18.99
Reviewed by Damian Hall
From WSC 313 March 2013
There can't be many football clubs that have a stronger connection to a foreign country than Arsenal do with France. Since Arsène Wenger took over, 23 French footballers have played for the Gunners – often in teams without an Englishman. Between September 10, 1996 and November 1, 2011 the club played only two competitive fixtures without a Frenchman in the team, both of which were experimental line-ups for relatively meaningless fixtures (and one included an unused French sub).
There's a story to be told here and Fred Atkins is in a good position to tell it, having lived in France and studied at university in Strasbourg, the city where Wenger grew up and gained his oft-mentioned 
economics degree.
The book is logically divided into a chapter for each player and lengths wisely vary – you wouldn't expect Patrick Vieira to get the same amount of coverage as Gilles Sunu. There's a foreword by Gilles Grimandi, in which he self-deprecatingly confesses his one Arsenal goal was a mishit cross, but unfortunately there are no fresh interviews. Though tracking down all 23 men would have been a huge job, it means there's little new here about the players' times at Arsenal, bar occasional quotes translated from interviews with the French press.
The book's interest comes largely from the players' pre-Arsenal careers, such as the comical litany of bureaucratic errors by French football officials, one of which meant William Gallas couldn't play first-team football for half a season at Marseille. No wonder his tantrums started long before his move to Arsenal. Many chapters are reminders that players' foibles – Abou Diaby's injuries, Mathieu Flamini's perceived disloyalty – were there before they moved across the Channel. Some may enjoy the news that, while playing for Lorient against Bordeaux, Laurent Koscielny was once sent off for fouling future team-mate Marouane Chamakh and the obvious quips it encourages.
The Emmanuel Petit chapter stands out. His life has not been that of the average footballer: he's struggled to deal with the death of his brother, depression, the USA 94 qualification failure (he played left-back in the defeat to Bulgaria) and periods of debauchery. Atkins also claims Petit drank and smoked throughout France 98. Perhaps more startlingly, after joining Barcelona, manager Lorenzo Serra Ferrer asked him what position he played. Petit almost joined Manchester United instead of Chelsea – and wishes he had.
However, Atkins's tone is unashamedly parochial. There are puerile digs at Alex Ferguson, a tedious and paranoid rant about refereeing decisions and, apparently, Jacques Santini's judgment should be questioned simply because he managed Tottenham, while crass speculation on Thierry Henry's marriage breakdown belongs to the worst of the tabloid press.
Some bigger questions, too, go begging. Has Wenger systematically favoured French players over English players? If so, why? Should Le Prof still be recruiting heavily from Ligue 1 when the French national team are no longer pre-eminent – and when Alan Pardew seems better at it. And how has Wenger's English seemingly got worse, "a little bit", over the years?